Black and Blue Outdoor Furniture
Our deck is sporting black and blue outdoor furniture.
Did that sentence make it sound like our outdoor furniture rumbled after school?
While most of our outdoor furniture is second-hand and was in rough shape when I found it, it is looking decidedly better after a little spray paint session.
I've also done some outdoor furniture switching around in an effort to only keep the things we use. There will be a quiz at the end, so pay attention.
To that end, the table in this below picture from October 2020 was set out by the side of the road and now has a new home. It came with the house and wasn't in the best shape, so I'm not sad to see it go.
As a person who loves finding free stuff, I take particular joy in being the person that provides the free stuff for others to find. In fact, I think I enjoy it more!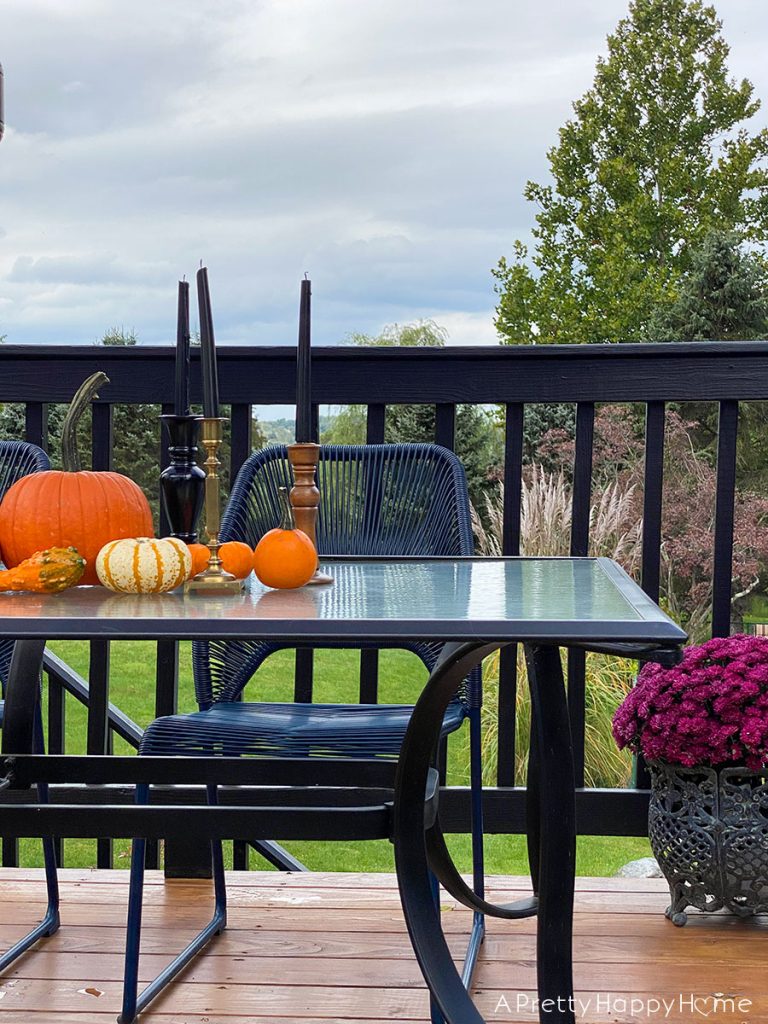 The table from our front porch that was also left here by the previous homeowner is now on the deck.
It used to look like this…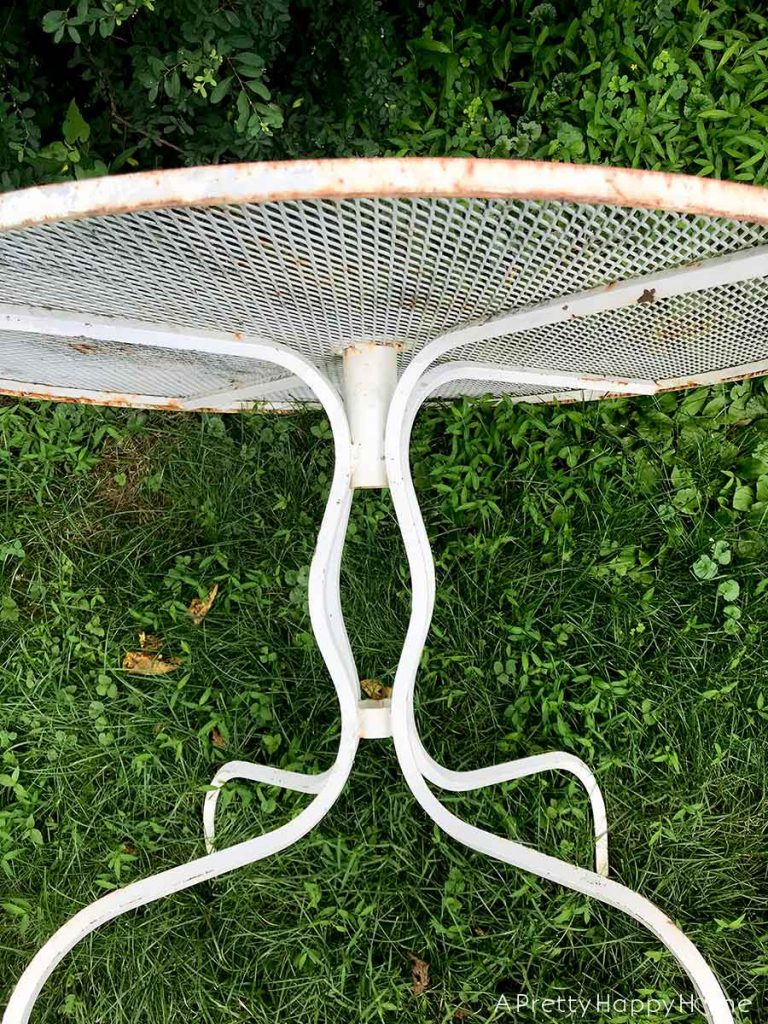 After a lot of scraping to remove the rust, that metal table received a coat of spray paint two years ago.
It is the perfect size for the four of us and I like how the round shape breaks up all the square lines of the deck.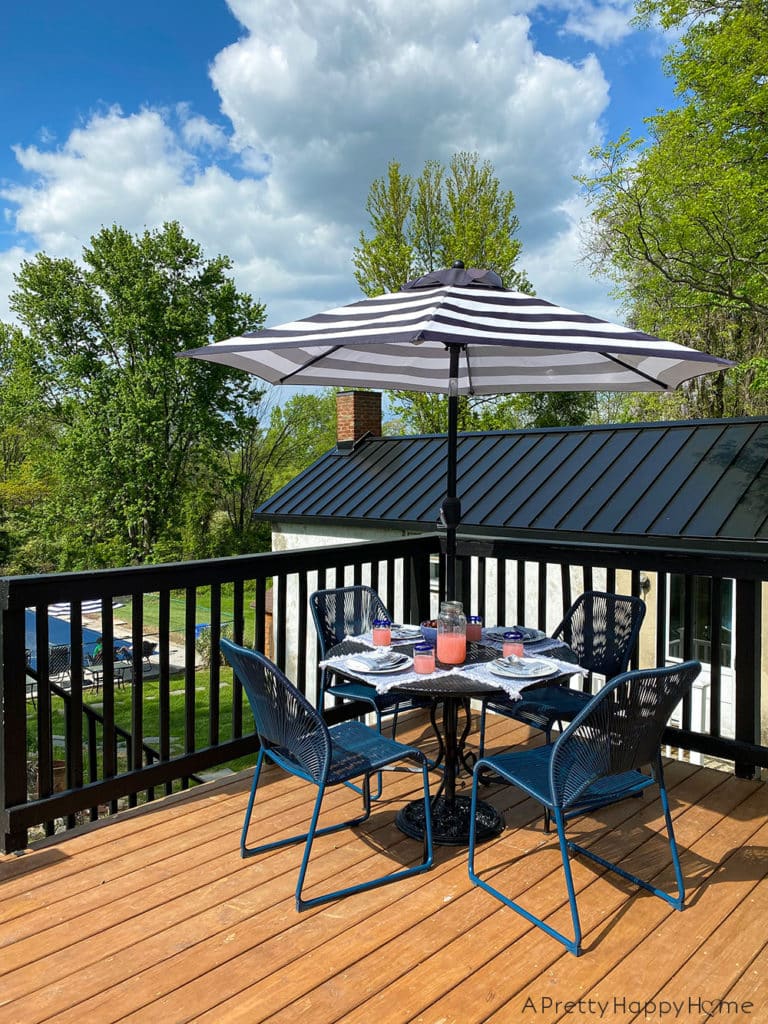 The previous homeowner also left some swivel outdoor chairs, which we did not use last year because the mice had made a lovely little home out of the outdoor cushions.
It's hard to fault them for that. They were soft cushions and I did leave the cushions unattended in our barn over the winter. Give a mouse a cushion…
I know better now.
When I took a good look at the chairs this year I realized the style was actually great and they were in perfect shape. All they needed was a coat of black paint to modernize them.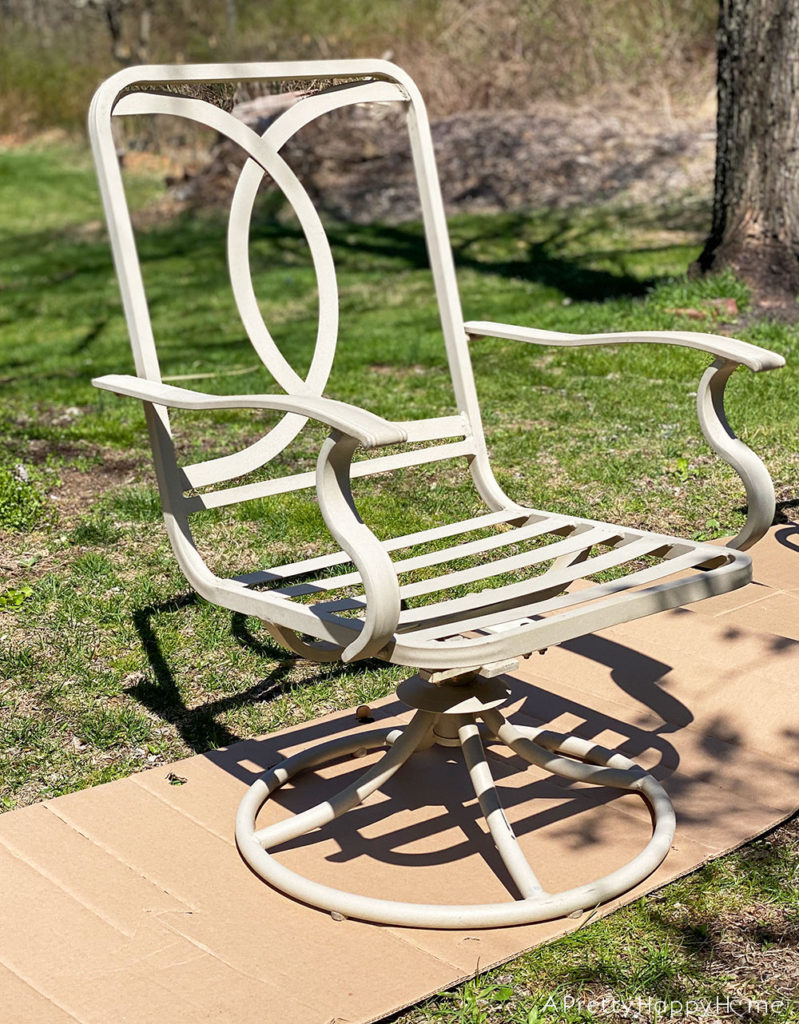 Oh, and cushions. The swivel chairs needed cushions. Why are outdoor cushions so expensive?
I knew I wanted blue cushions to go with our other blue outdoor chairs.
Give me a theme and I'll run away with it!
I finally found the best deal on outdoor cushions in the size, color, AND style I wanted at Wayfair. It was a solid hour(!) of online shopping and I was exhausted, so I begrudgingly purchased them.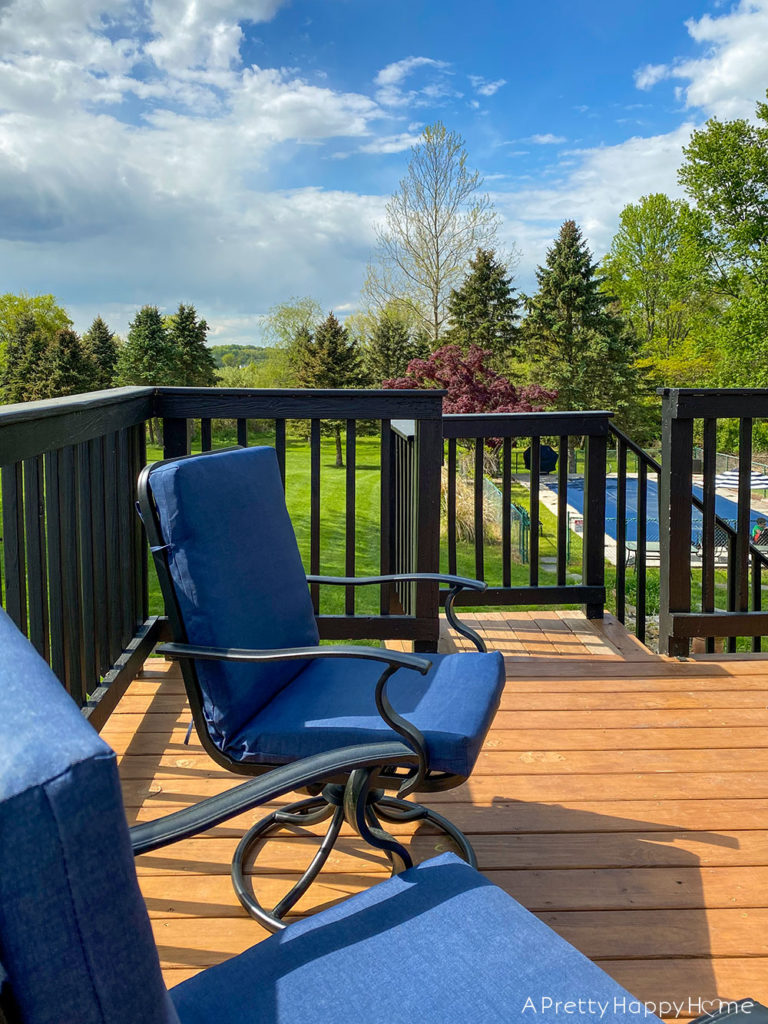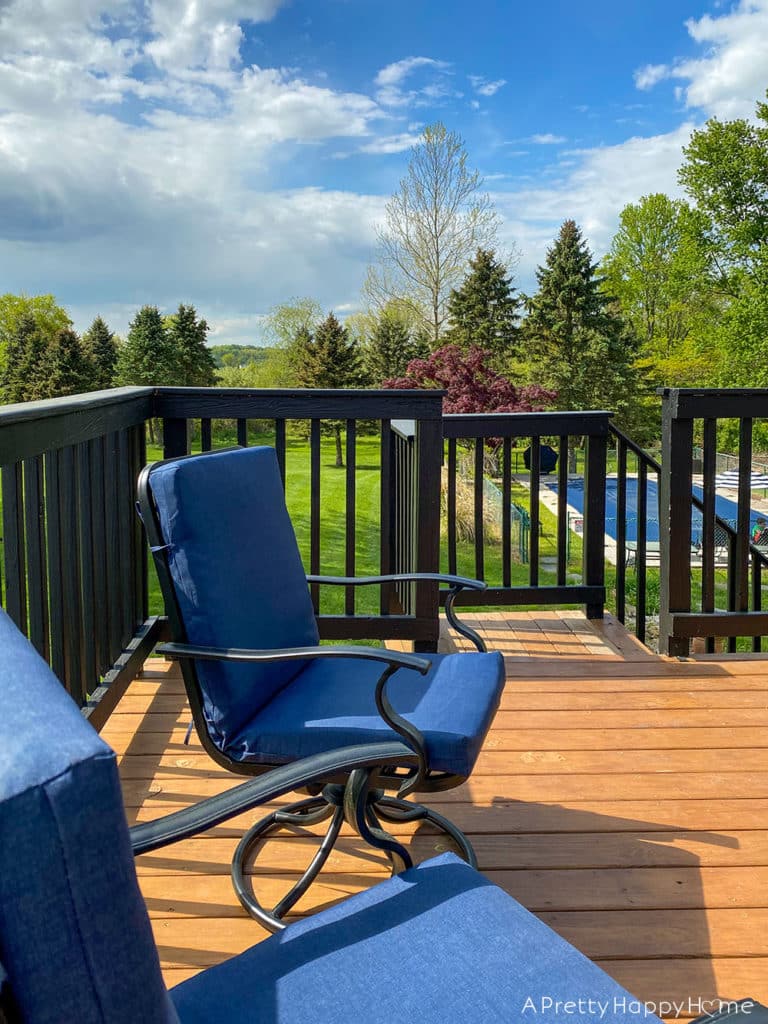 Then I proceeded to love the cushions with my whole being when they arrived because the denim blue color was even better in person. Can you tell it's the actual act of parting with money that is the hardest for my frugal soul? Ha!
If you're wondering if we brought any of our own possessions with us to the Colonial Farmhouse, I can see why I might have left that impression. I haven't even mentioned the THIRD outdoor table that was left here and that I still need to paint.
To answer the question, yes. The blue outdoor dining chairs are ones I owned before we bought this place. They are from Target and I've been wholly impressed with their quality.
Plus, they lend a modern vibe to all the old stuff the more traditional and well-loved aspects of our outdoor living situation.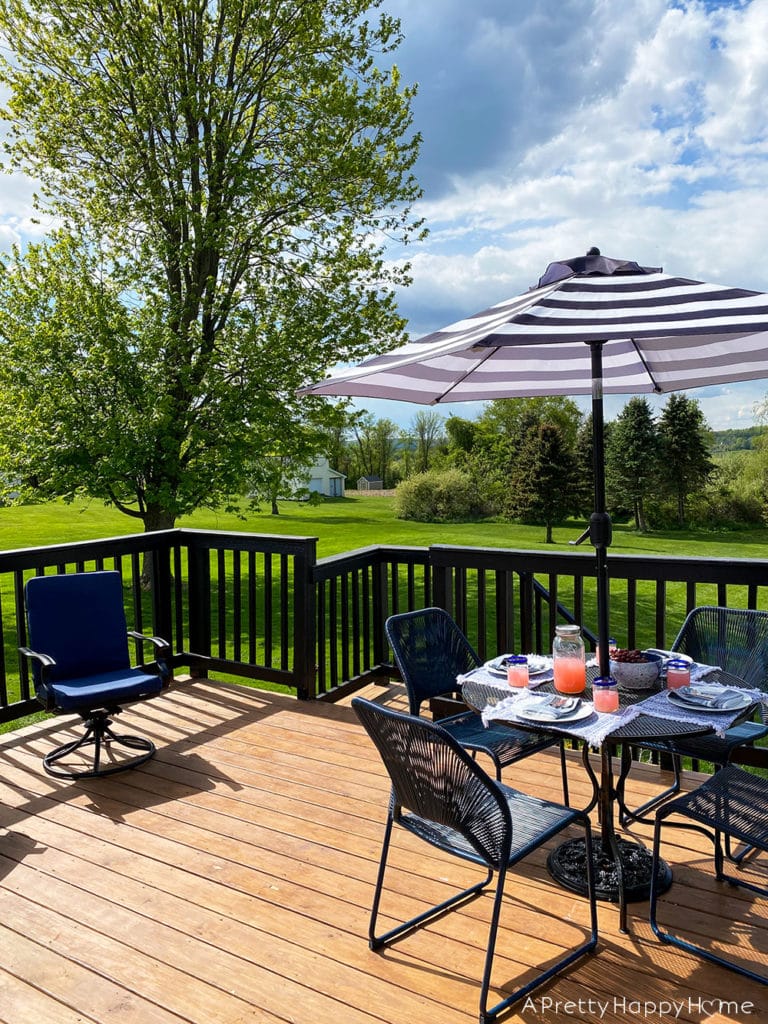 We also have an outdoor dining table that Handy Husband built years ago when we lived in Atlanta. It is currently pulling duty as a counter in our kitchen though. When we build a proper counter, it can come back outside and we'll do another table switcheroo.
All I need now are flowers to pretty up the deck and a side table to sit between those swivel chairs so we have a place to set our drinks!
But really, even if I don't get to those things, we've already come so far in two years!
This was the deck last summer…yikes!
It's so easy to forget that we've done a lot of work to improve our outdoor spaces.
In fact, we couldn't even use the deck for most of Summer 2020 because of the pandemic lumber shortage. We had to parkour over the holes in the deck to get outside, which I found nerve-wracking my kids thought was gloriously fun.
This is the deck now…1,000 times better and not at all nerve-wracking.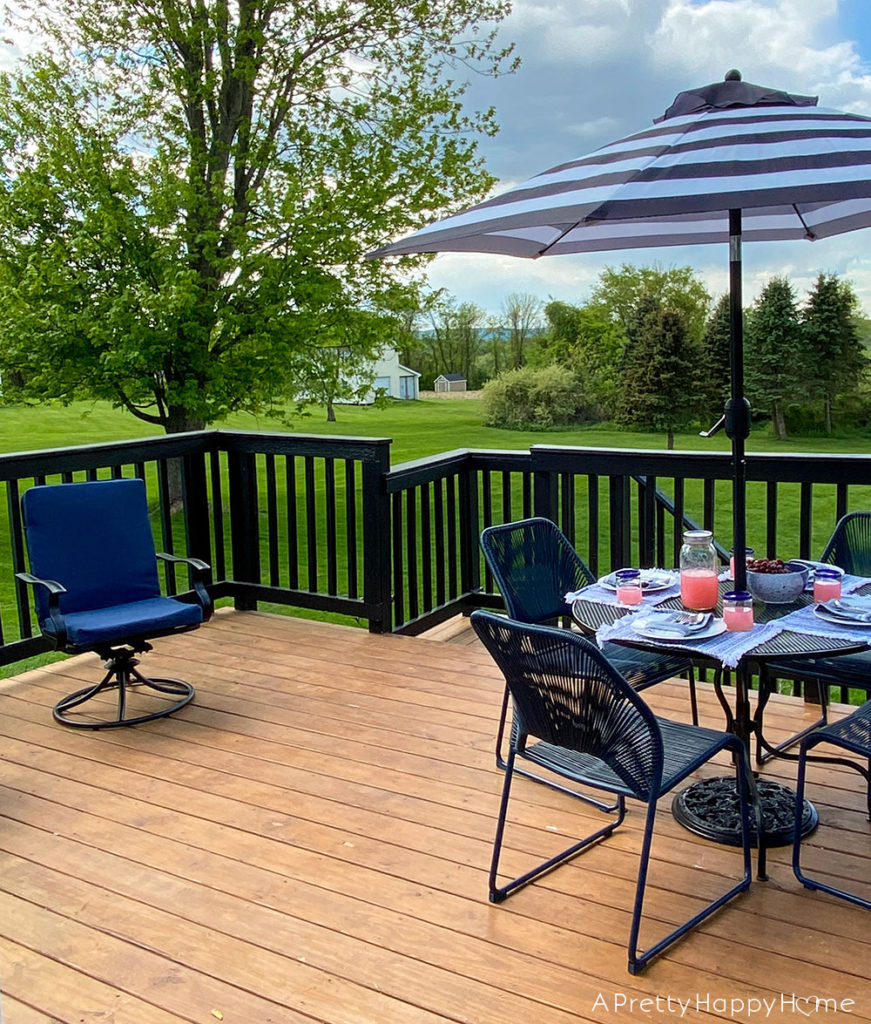 Do you like the black and blue outdoor furniture combo? Or do you prefer to go more neutral with your outdoor furniture? Perhaps more colorful?
Whatever your style and color preferences for outdoor furniture, I think we can all agree that being outside on a perfect summer evening brings about all the happy, contented feelings.
---
Just kidding about that quiz, but here are the outdoor furniture details:
These are the Wayfair cushions I purchased. Great deal and awesome reviews.
My Target chairs are old, so I can't help you with that link.
I typically spray outdoor furniture with spray paint in a satin finish. The swivel chairs needed a can and a half each of spray paint. I usually buy black spray paint in a 6-pack because I always need it.
My black and white striped umbrella was $40 last year from Amazon.
---
Thanks for being here today! Blogging is a lot more fun when I can share it with others! Here are some other posts you might enjoy.
That One Time I Went for a Trail Run
*affiliate links in this blog post*