Patriotic Front Porch for our Colonial Farmhouse
If ever there was a home that needed a patriotic front porch, it is our Colonial Farmhouse.
While this colonial farmhouse did not exist for the signing of the Declaration of Independence, it was built shortly thereafter. That means it witnessed the growing pains of a newly formed nation and there were plenty!
It bore witness to the War of 1812, the Mexican-American War, the Civil War, and the Spanish-American War. Those are just the major wars of the 1800s.
At the risk of stating the obvious, that's a lot of bloodshed.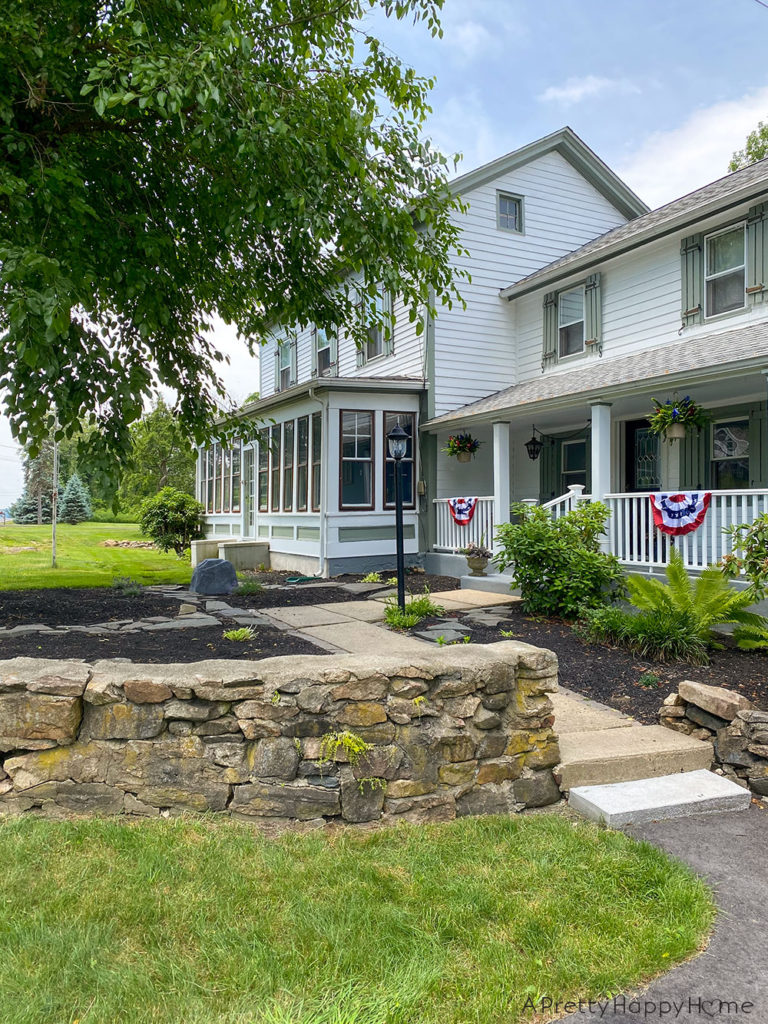 I'm sure this Colonial Farmhouse has bore witness to the warm fuzzies in American history as well.
Right?!?!
While minuscule in comparison to the positive advancements in our country, my patriotic front porch is giving me warm fuzzy feelings this summer. Well, more warm than fuzzy because it's hotter than a french fry fresh out of the fry basket in New Jersey right now.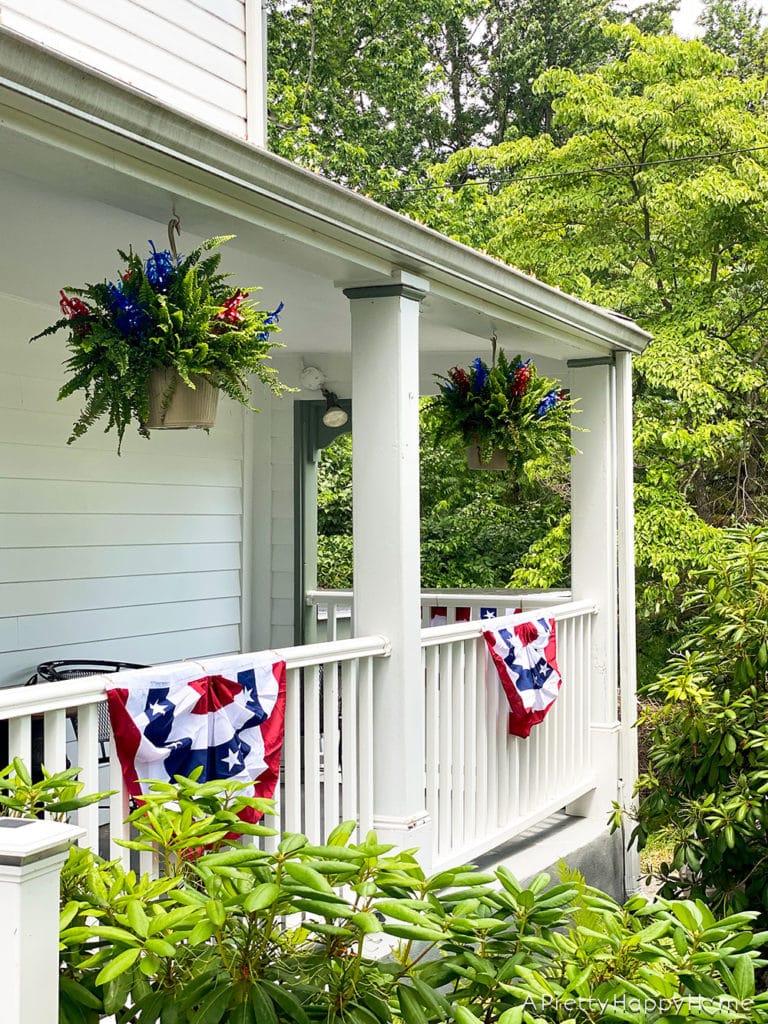 I've never felt the urge to dress any of our previous homes up for the 4th of July, but this house feels patriotic to me.
All it took were a few flags on the front porch and we are feeling decidedly festive here! It doesn't get much easier than sticking a flag in a flowerpot or hanging a banner on the porch rail.
The faux sparklers I made out of cellophane and wood skewers are my favorite part of my patriotic front porch decor though! They add a little bit of unexpected pizazz.
If you missed the faux sparkler blog post, the how-to can be found here.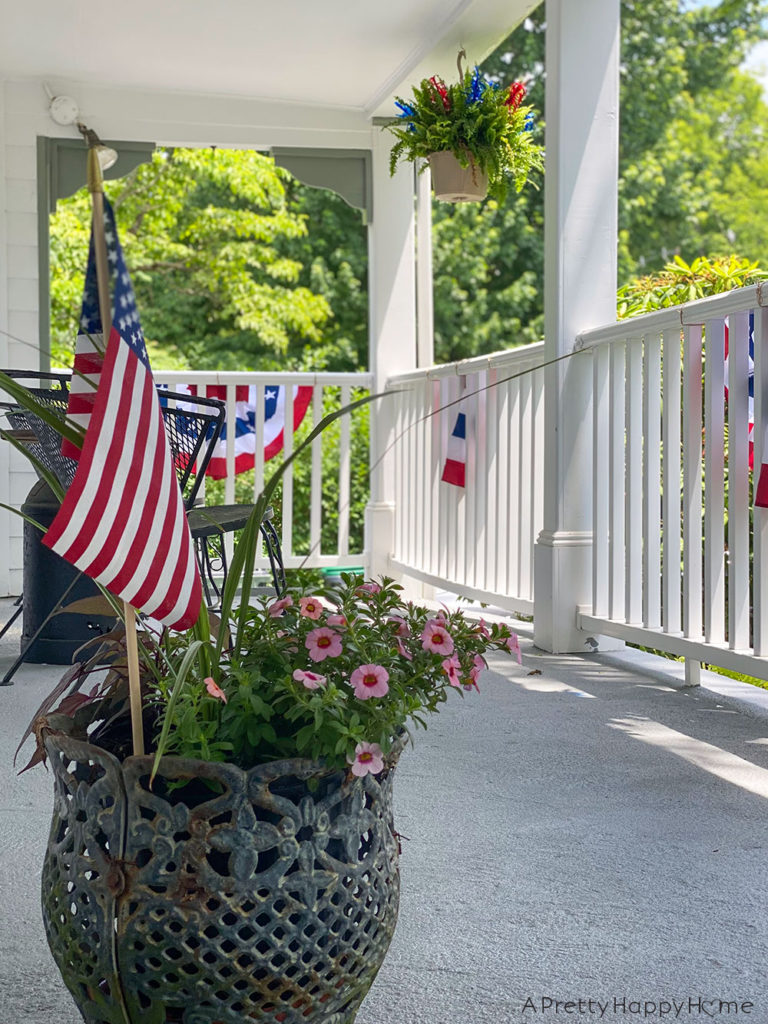 While I've always been fascinated by history, even more so the older I get, I love that living in this colonial farmhouse makes me THINK about the problems and opportunities in our country.
It's not just the big stuff, but this house has made me consider the minutiae of everyday life too. For instance, so much has changed in the daily lives of women since this house was built.
We can vote, own property, work outside the home, control when and how we have children. We don't have to work over an actual fire three times a day to cook meals for our family. Heck, we can get those meals delivered to our door now if need be! Isn't that the ultimate luxury?
Don't get me wrong, we still have a long way to go in terms of equal rights, equal pay, and treatment of all people. However, at the moment, I am hopeful that the country and the world might make progress in that regard for my children's generation and beyond.
Happy 4th of July! Be safe as you celebrate this year.
---
Patriotic Front Porch Decor Resources:
8×12 American Flags for Flower Pots. I got mine at the grocery store!
Fan Flags for Porch (1.5 x 3 ft) 4-pack
Zip Ties for securing the flags. Zip ties worked a little better than twine.
---
Thank you for reading today's blog post. I hope you gained an idea or two today. Here are some other blog posts you'll enjoy. See how confident I'm feeling today? Haha!
4th of July Grain Sifter Wreath
Fresh Raspberry Peach Pie – Perfect for the 4th of July
DIY Patriotic Manicure and Pedicure
*affiliate links in this blog post*