Mountain-Themed Pool Ball Rack Art
I found a pool ball rack at an antique shop and turned it into Mountain-Themed Pool Ball Rack Art because why not?
It seemed like the inspired thing to do even if creating this Mountain-Themed Pool Ball Rack Art (Say that five times fast!) was a creative accident.
I was going to turn the pool ball rack into a leather-lined tray, but in the process of laying out the leather, I realized the leather shapes looked like mountains.
Hold onto your hot glue gun, folks! With that "aha" moment, this project climbed in an entirely new direction.
I'm not sad about it!
The creative process can be a long and windy road. Sometimes the final destination is better than you thought it could be. Sometimes it is worse…much worse and we never speak of those instances again.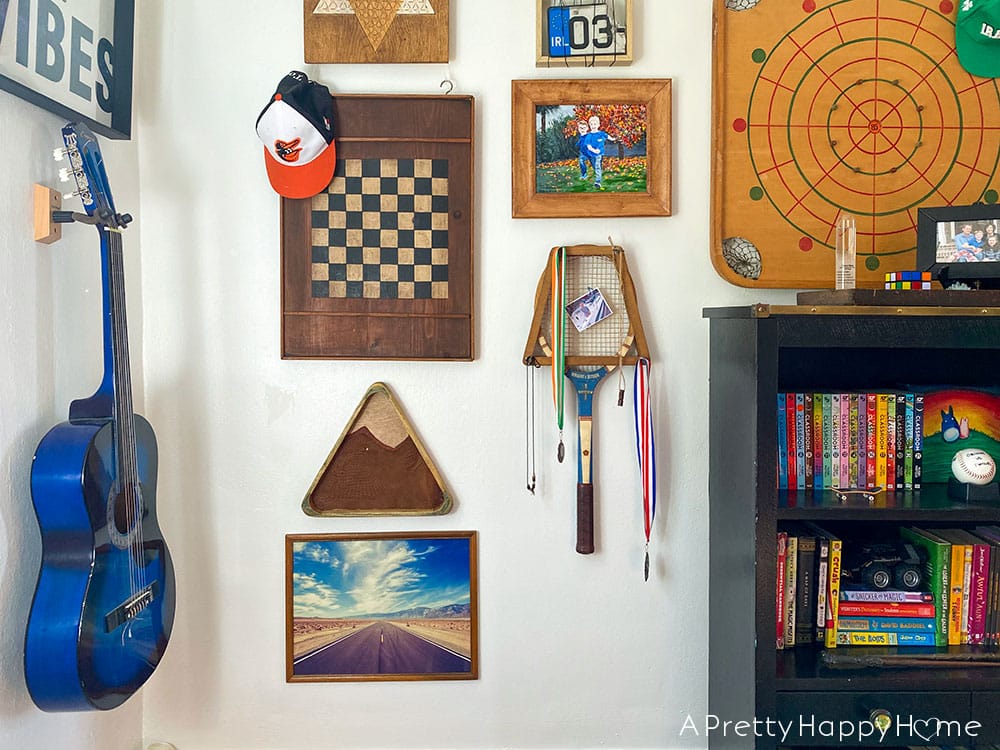 But let's stay on track here!
To create Mountain-Themed Pool Ball Rack Art you first need a wooden pool ball rack or billiard ball rack.
We added a back to the rack using 1/4-inch plywood.
Lay the pool ball rack down on the plywood and trace around the outside with a pencil. This will be the cutting template. Cut out the plywood triangle.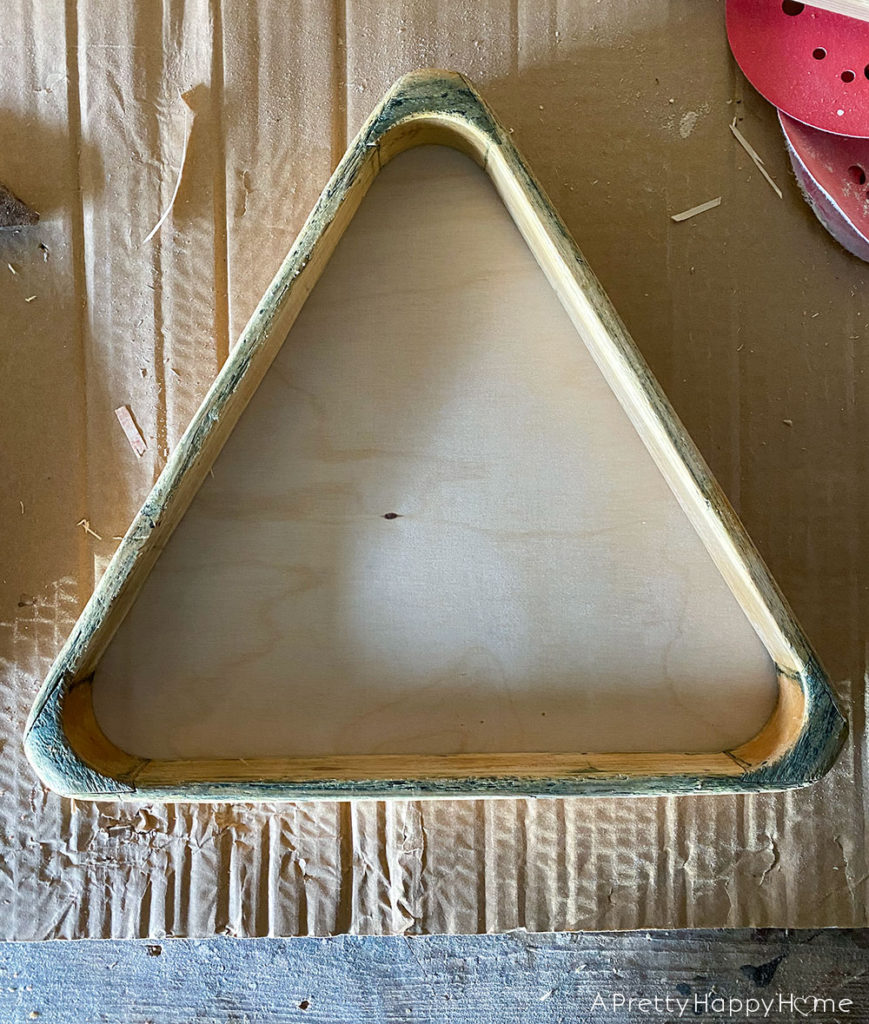 Sand the wood triangle and add stain or paint if that's how you are choosing to finish it.
Attach the plywood triangle to the back of the pool ball rack using wood glue and small nails.
If there are any gaps you don't like after it is attached you can fill them in with a small amount of wood putty, but you'll need to stain or paint those filled sections if you already pre-stained or pre-painted your backer board.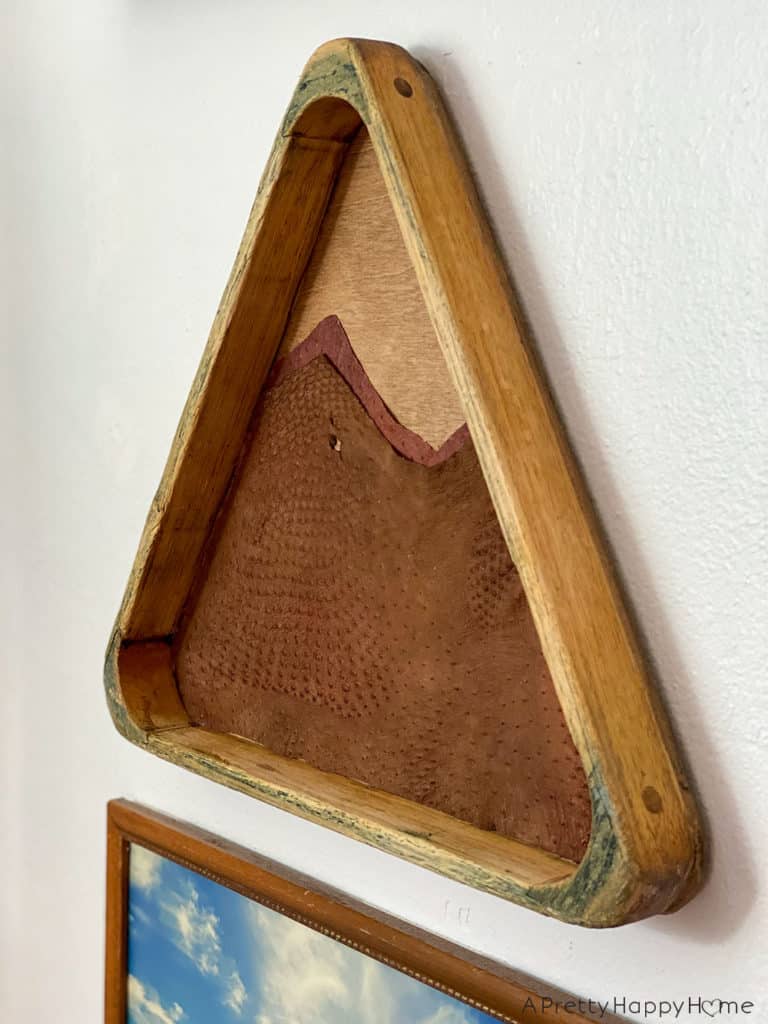 Cut mountain shapes out of leather and glue them to the inside of your pool ball rack. I used wood glue, but any other strong glue should work.
If you like the mountain theme, but don't want to use leather you could also use felt or another fabric. Alternatively, you could paint a mountain range onto the back of your pool ball rack art.
Last, hang your Mountain-Themed Pool Ball Rack Art on the wall and enjoy. I used Command Strips to hang the art, but you could also attach a picture hanging hook.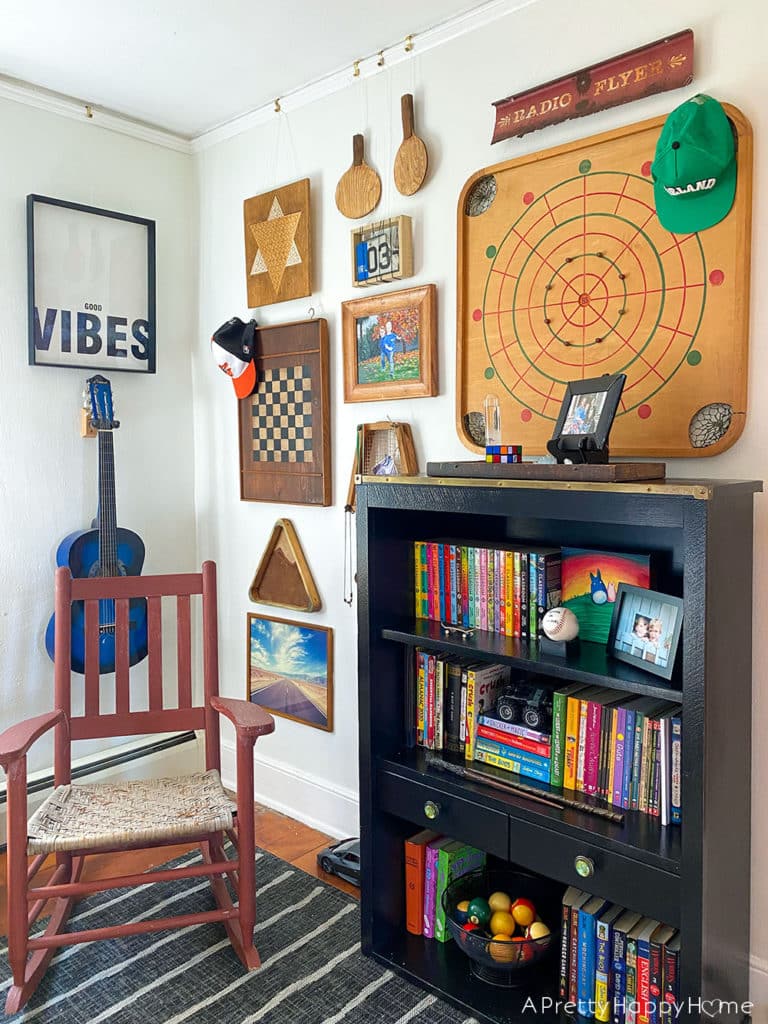 How do you think my Mountain-Themed Pool Ball Rack Art turned out?
If you despise it with every fiber of your being feel free to hold those thoughts quietly inside your head.
If you think it's a fun addition to the Vintage Game Gallery Wall in my son's room, raise your hand! That's a loose theme for this gallery wall, by the way.
This wall, especially with the addition of the Mountain-Themed Pool Ball Rack Art, makes me very happy.
---
P.S. A pool ball rack could also be repurposed into a wall clock. Wouldn't that be neat?
P.P.S. If you make anything out of a pool ball rack, please let me know! You can email me here on the blog, leave a comment, or tag or message me on Instagram or Facebook.
---
Project Material Suggestions
If you'd like to make pool ball rack art but haven't found a rack in the thrift store, you can buy wood pool ball racks on Amazon for around $13.
You can buy leather (like this) and faux leather sheets (like this) for crafting at the craft store. I also will cut up old leather jackets, boots, etc. that are no longer in good shape and repurpose the leather for craft projects.
---
Thank you for reading this blog post! I hope you gained an idea or two. If you like leather crafts, you might enjoy one of the following posts as well.
*affiliate links in this blog post*