Easter Egg Embroidered Napkins
Here's a relatively quick and customizable Easter craft for you – Easter Egg Embroidered Napkins.
This is a fun way of adding some Easter flair to otherwise plain cloth napkins.
Please note that I casually threw out the words 'relatively quick' when describing this project. Some of you have never touched embroidery thread. Some of you are probably hand-stitching pros and could do this project with your eyes closed.
(If you can actually do this with your eyes closed, will you make a video for me?)
On the embroidery spectrum, I'm a little closer to "never touched embroidery thread" than I am to being a professional. With my limited skills, it took me about 30 minutes per napkin to complete this project.
Here's how I made these Easter Egg Embroidered Napkins:
---
Step 1: Trace Egg Outline Onto Napkin
I'm sure some of you can freehand stitch an egg shape, but I'm not one of those people.
I lightly traced an outline of an egg shape onto the napkin using a pencil. Most people will tell you to use a water-soluble fabric pen for this. Rebel that I am, I just used a regular pencil with the aim to completely cover up my pencil marks with stitching.
If you'd rather try a different shape for your Easter napkins like a bunny, a flower, a cross, etc. go for it!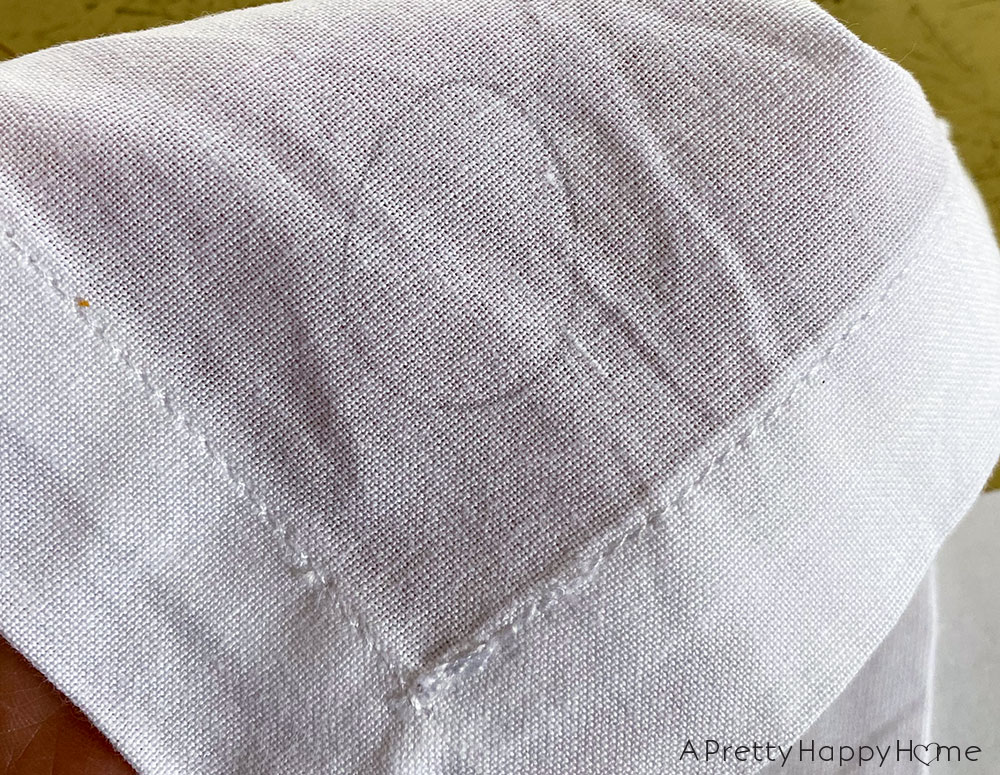 Please note the internet is not in agreement on where to place an embroidered detail on a cloth napkin, so it seems to me like that means it is the hand stitcher's choice!
I chose to stitch my Easter egg shape at an angle on a napkin corner because I intended to use these napkins with a napkin ring. If you are going to fold your napkins, you may want to put your shape in a different location.
---
Step 2: Fill In The Outline 
Place your napkin into an embroidery hoop and use whatever embroidery stitches you know to fill in the egg outline. You can have fun playing around with colors and patterns here.
If you need a list of basic embroidery stitches with how-to pictures, I found this list by Lia Griffith to be helpful.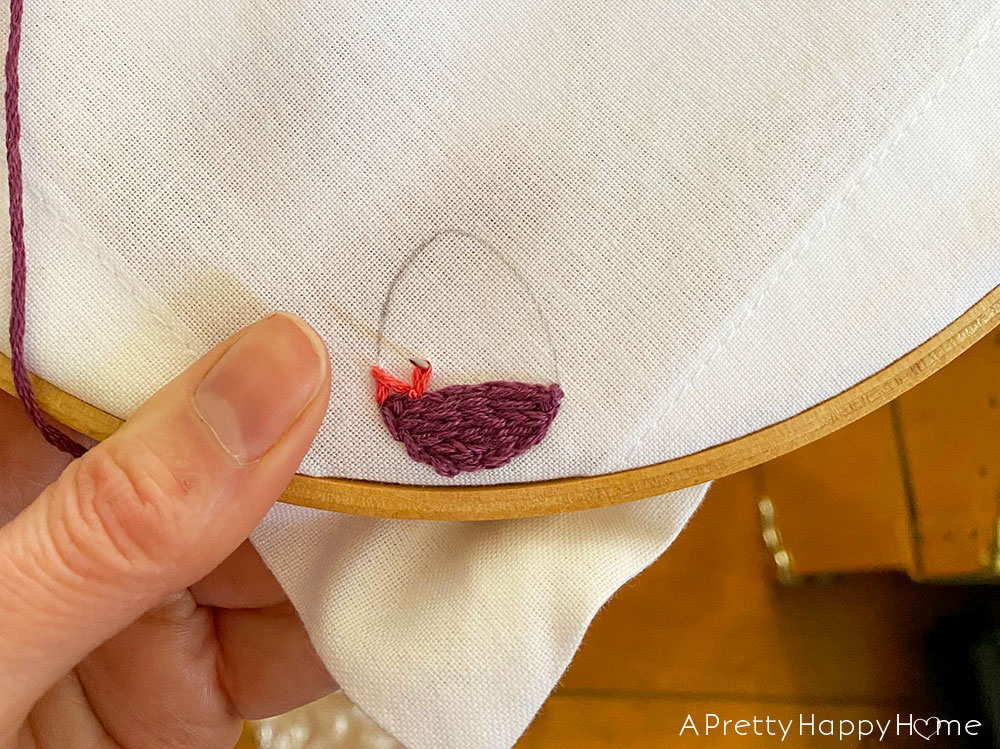 Please note: I did not use an embroidery backer or stabilizer on these. I felt my fabric was stiff enough, but you can definitely use a backer if you choose.
My napkins look a little messier than I'd like on the back because I'm not a pro I was tying off multiple colors of embroidery thread. Given that people wipe their mouths on these things, a little thread messiness is probably the least of my worries.
---
Step 3: Iron, Fold, and Enjoy
As much as it pained me to get out the ironing board, I did iron my napkins when I was done stitching them because they had become a little crumpled in the embroidery hoop.
It was totally worth it though because look how happy this napkin looks!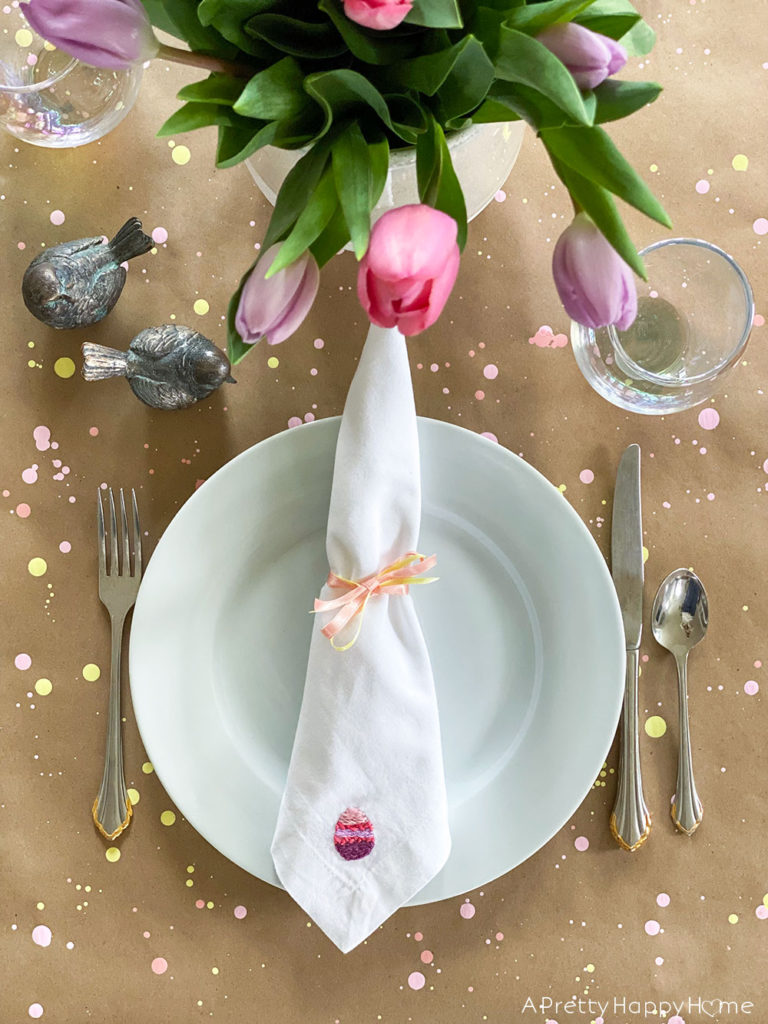 ---
Please tell me you can tell that's an Easter egg on these Easter Egg Embroidered Napkins! Hahahaha!
I had fun making these. It was the perfect craft to do while watching tv.
The possibilities are endless on how to customize this embroidered napkin idea to make it your own.
If you do end up making some Easter Egg Embroidered Napkins, please let me know! You can email me here. You can also reach out via Instagram and Facebook. Happy crafting!
---
P.S. I think these Easter Egg Embroidered Napkins would make a fun gift idea for a friend. Well, not this particular set. I wasn't sure how it would go so I used some old napkins that were stained. Shhh! Don't tell!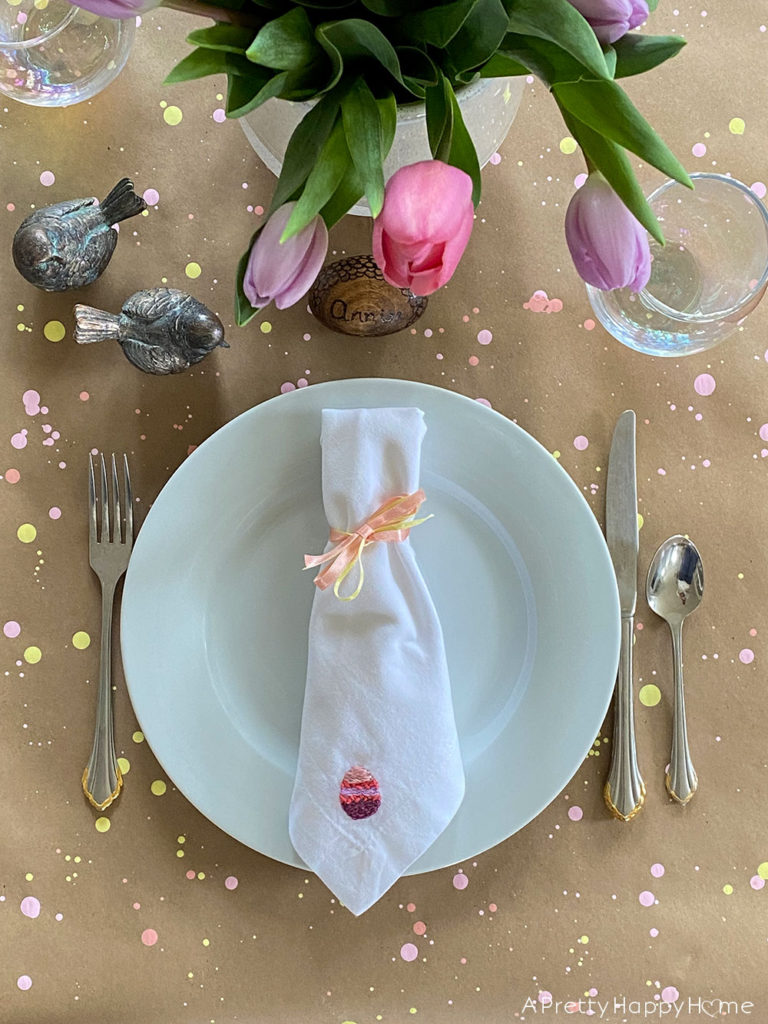 ---
Thanks for being here today! Here are some other posts you might enjoy!
Jeans Embellished With Embroidery Thread Detail
Easter Egg Hunt Idea for Teens and Adults
*affiliate links in this blog post*