How We Made Our Front Door Look Bigger With Paint
Let's talk about how we made our front door look bigger with paint and only paint. Once again, the MVP of DIY saves the day.
If you want to be all technical about it, I can concede the primary purpose of a front door is to allow access to a home.
However, you and I know that the REAL purpose of a front door is to make a darn good impression on all the people who regularly see it like the Amazon driver, the UPS driver, and the FedEx driver.
What?!? Am I hearing you correctly?
Folks other than delivery people come to your house. Regularly?!?
Huh. You must be an extrovert. Maybe that's why we are friends…opposites attract and all that jazz.
Now, back to the trick for how we made our front door look bigger with paint and only paint.
The trick is to paint the door, the trim, and any screen or storm door all the same color.
It's so simple it's hardly a trick.
Not convinced? I'm so glad you're a skeptic. That's another reason why we are friends. Let's look at some pictures.
Below is how our front door started out.
It had black paint with white trim. There was also an invisible screen (that's a misnomer if there ever was one because I can see the frame) that was white.
The front door could have looked worse and it could have looked a whole lot better.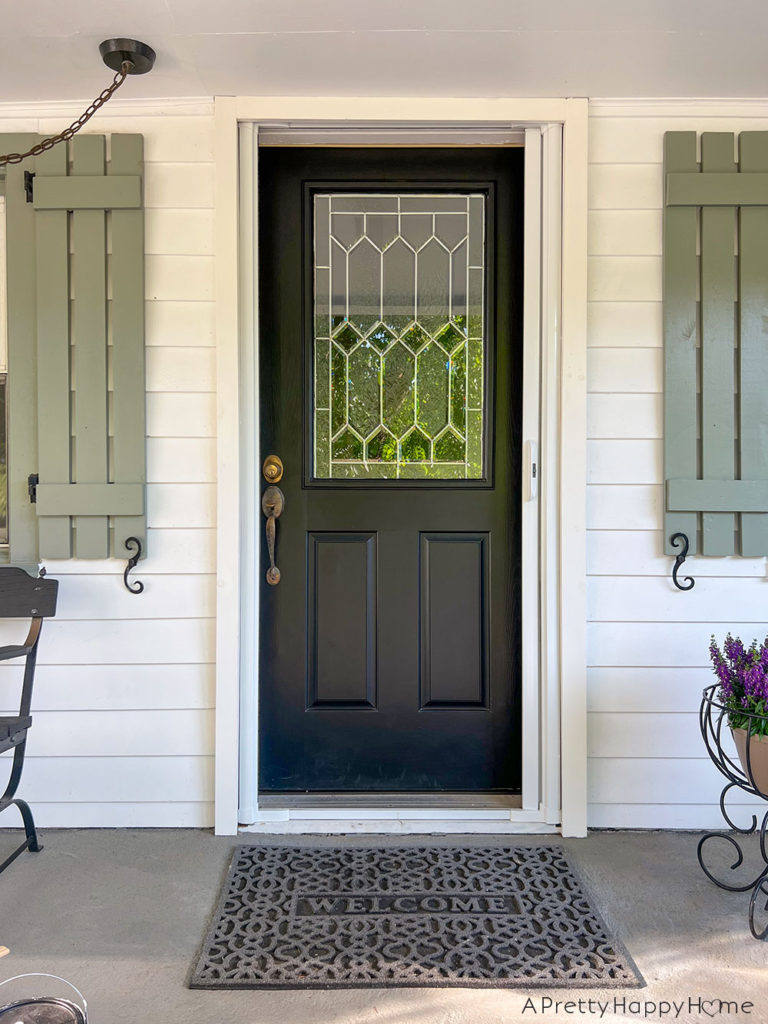 I know it's not ideal to have one of these invisible screens on your front door, but it was the best option at the time.
As much as it pains me, sometimes practicality wins out over aesthetics around here.
This old house of ours does not have central air-conditioning. During the spring and fall, this house benefits greatly from being able to open the front door to allow fresh, cool air in. However, if we are going to regulate the temperature of our house the natural way, we need a screen because this is New Jersey and bugs are aplenty.
We used to have a regular screen door on this front door, but since we primarily enter the house through the front door, it was really annoying to have to open two doors every time we wanted to go in and out of the house.
For the longest time, I didn't know what to do about that "invisible" white screen door. It was brand new and it wasn't cheap. I had a mental block over painting something new. What if I ruin it?!?
However, if you leave a new screen door alone for a couple of years and someone walks through the screen once or twice, it's not new any longer. You can now jump over that mental hurdle and start painting the darn thing.
The front door situation was starting to look better already.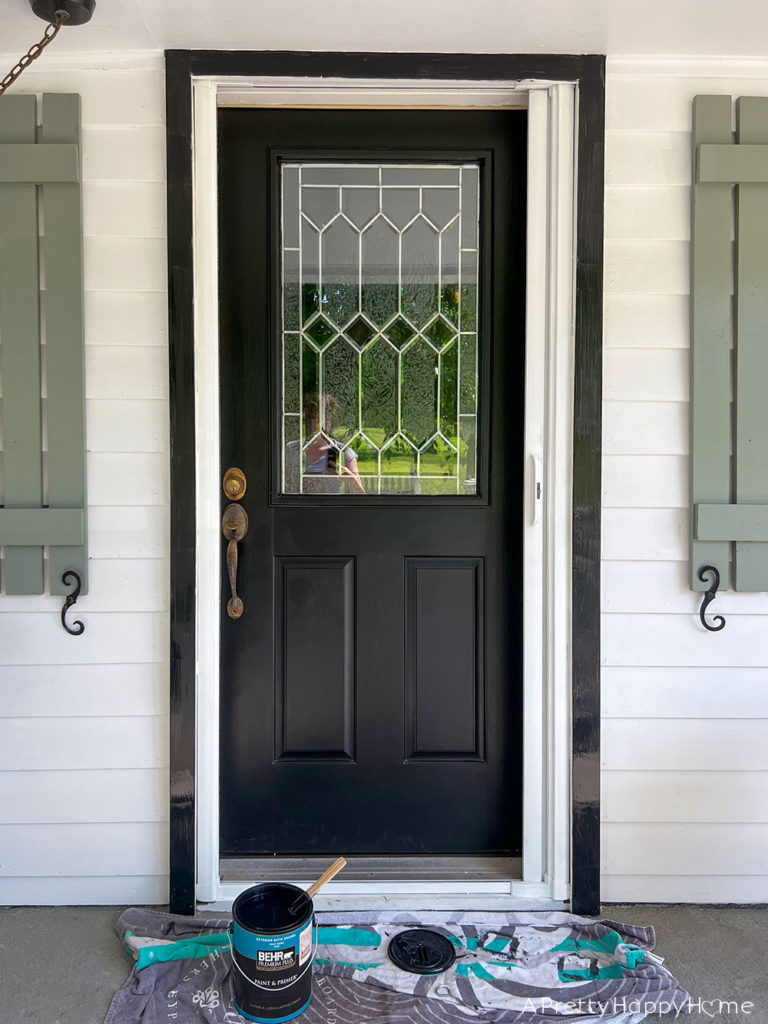 And here's how the front door looks now with the door, trim, and screen door frame painted the same color and sheen of black.
It looks bigger, right? More substantial.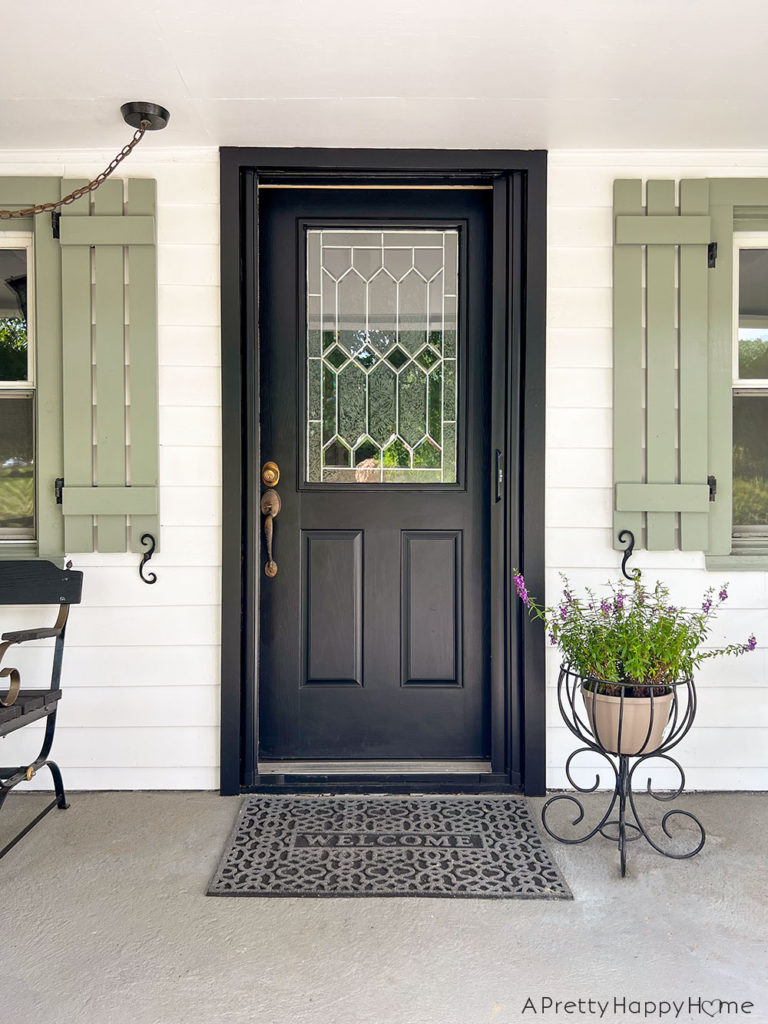 This door makes an impression now.
But since I know you're a skeptic, shall we look at the before picture just to be certain?
Before…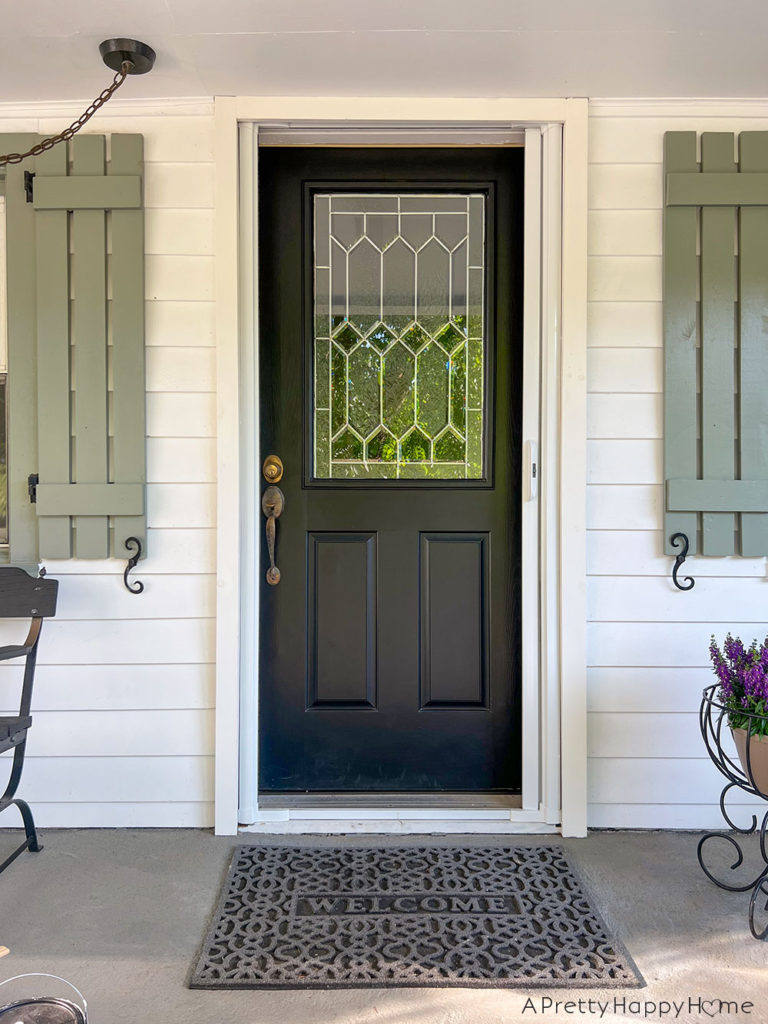 And, after…
Oh, yeah. Definitely, mission accomplished.
Please note that this trick to make your front door look bigger with paint works even if you don't have a screen or storm door. Just paint the trim the same color as your door and presto change-o, look at the door instantly grow.
I'm so happy I finally decided to paint the screen door and the door trim to match our front door. I made the best of an awkward front door situation and it made me love our home a little more.
What do you think of how we made our front door look bigger with paint? Would you try it? You can always comment on this blog post (I have to approve it first before it appears), email me here, or reach out via Instagram or Facebook.
---
P.S. While this idea to make a front door look bigger with paint is not necessarily unique, I did not arrive at this painted destination on my own. I've been watching Brooke at Nesting With Grace paint doors and storm doors the same color for years now. She always has fun decorating ideas and seems so kind and generous.
P.P.S. The invisible screen door hardware was white plastic. I knew I needed to paint it so it would blend in, but I was concerned about chipping. I ended up putting two clear coats on top of the black paint and, so far, it's held up for 3 months with no chipping or flaking.
---
Products In These Photos:
Black Paint: Behr Limousine Leather (I didn't pick it for the name. I just liked this color of black.)
Welcome Mat: Target
Flowers: The grocery store. I've kept them alive all summer, thank you very much.
Invisible Screen: Home Depot. The screen part retracts into the frame, which makes it "invisible."
---
Thanks for being here today. I appreciate you. Here are some other posts you might enjoy.
How I Refinished Our 200-year-old Tongue and Groove Doors – It was nerve-wracking!
The Doors Of Our Colonial Farmhouse
A New Old Closet Door For Our Bathroom
*affiliate links in this blog post*