DIY Wood Acorn Napkin Rings
It's fall, y'all. Let's DIY some wood acorn napkin rings!
Did you know wood acorns were a thing? Bless the woodworkers of the world for creating such a thing I never knew I needed and now can't imagine living without.
There are so many things you could create with wood acorns, but I chose to make napkin rings. Let me explain how you can make Wood Acorn Napkin Rings for your autumn table.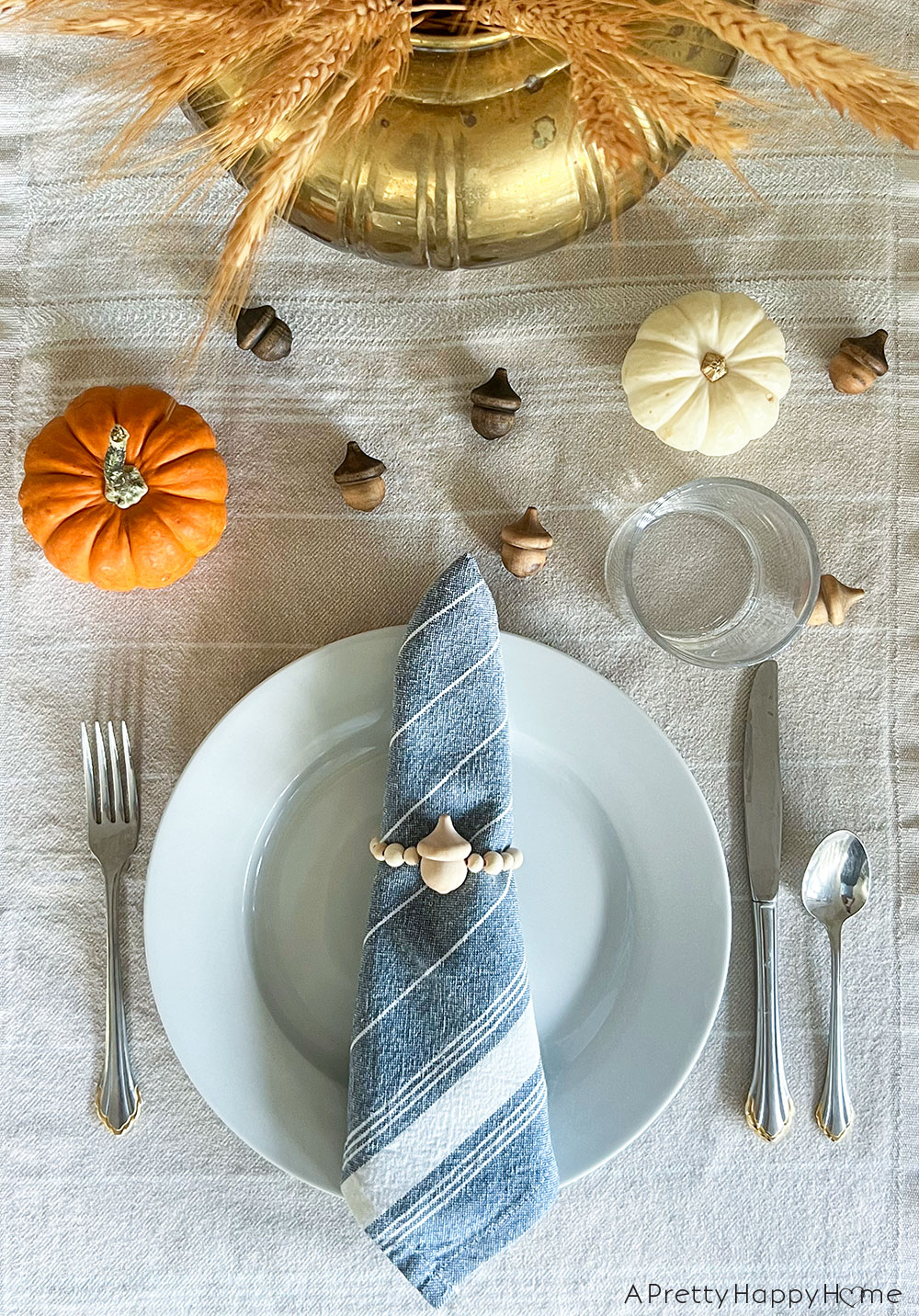 ---
Supplies you'll need to DIY Wood Acorn Napkin Rings:
wood acorns
wood beads (a pack with varying bead sizes is helpful)
elastic cord (I started out with a .5mm cord and that was prone to snapping. A heavier weight is probably better such as .8mm or 1mm. To me, a white cord looked better on unfinished beads. If you stain your beads and acorns dark, a black cord would probably look better. )
scissors
needle (helpful, but not necessary)
drill (need a drill bit just slightly larger than your cord)
*affiliate links*
---
Wood Acorn Napkin Rings Step 1: Drill a hole in your acorns.
It has to be done. You need to drill a hole in your brand new wood acorns so that you can string them on your elastic cord.
Choose a drill bit size slightly larger than your elastic cord.
Drill through the groove separating the cap of the acorn from the bottom. This location will center your acorn on the elastic cord.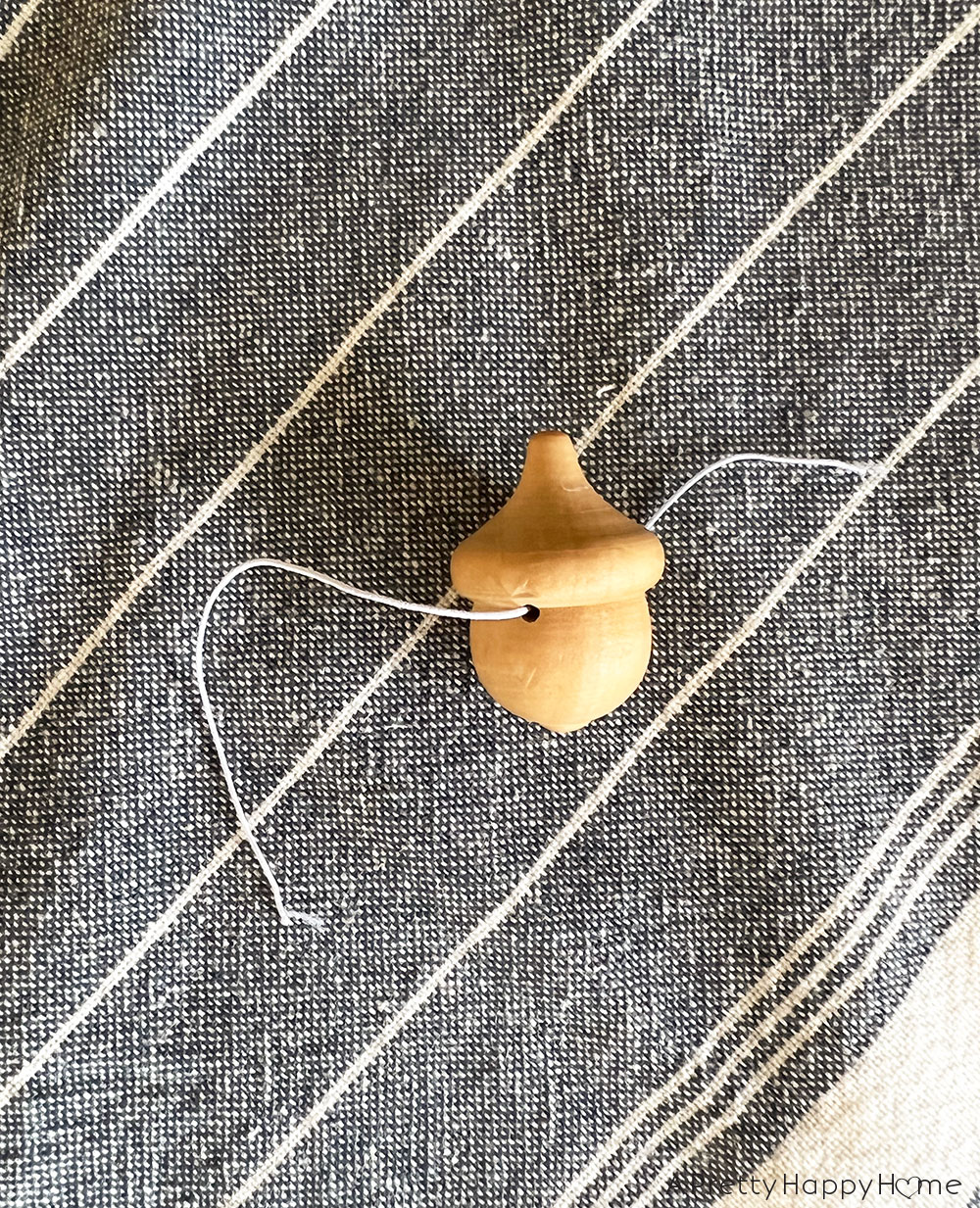 I didn't have any problem with the wood acorns splitting when I did this, but of course, the hole is pretty small.
Wood Acorn Napkin Rings Step 2: Decide now how you are finishing your acorns.
If you are going to stain, paint, or seal your wood acorns and beads, now is the time to do it BEFORE you string them on the elastic cord.
I chose to keep mine natural and unfinished because I liked that look.
Yours will look great no matter what you decide. Have fun with it! There's no right or wrong here!
Wood Acorn Napkin Rings Step 2: String your beads and acorns.
The trickiest part of making these Wood Acorn Napkin Rings is to figure out the sizing of the ring, especially when a stretchy cord is involved.
Technically, I think you could string these napkin rings with something non-stretchy, like twine or embroidery floss. You'd just need to make sure they function well.
Most napkin rings are around 1.75 inches in diameter, so that's what you are aiming for creating.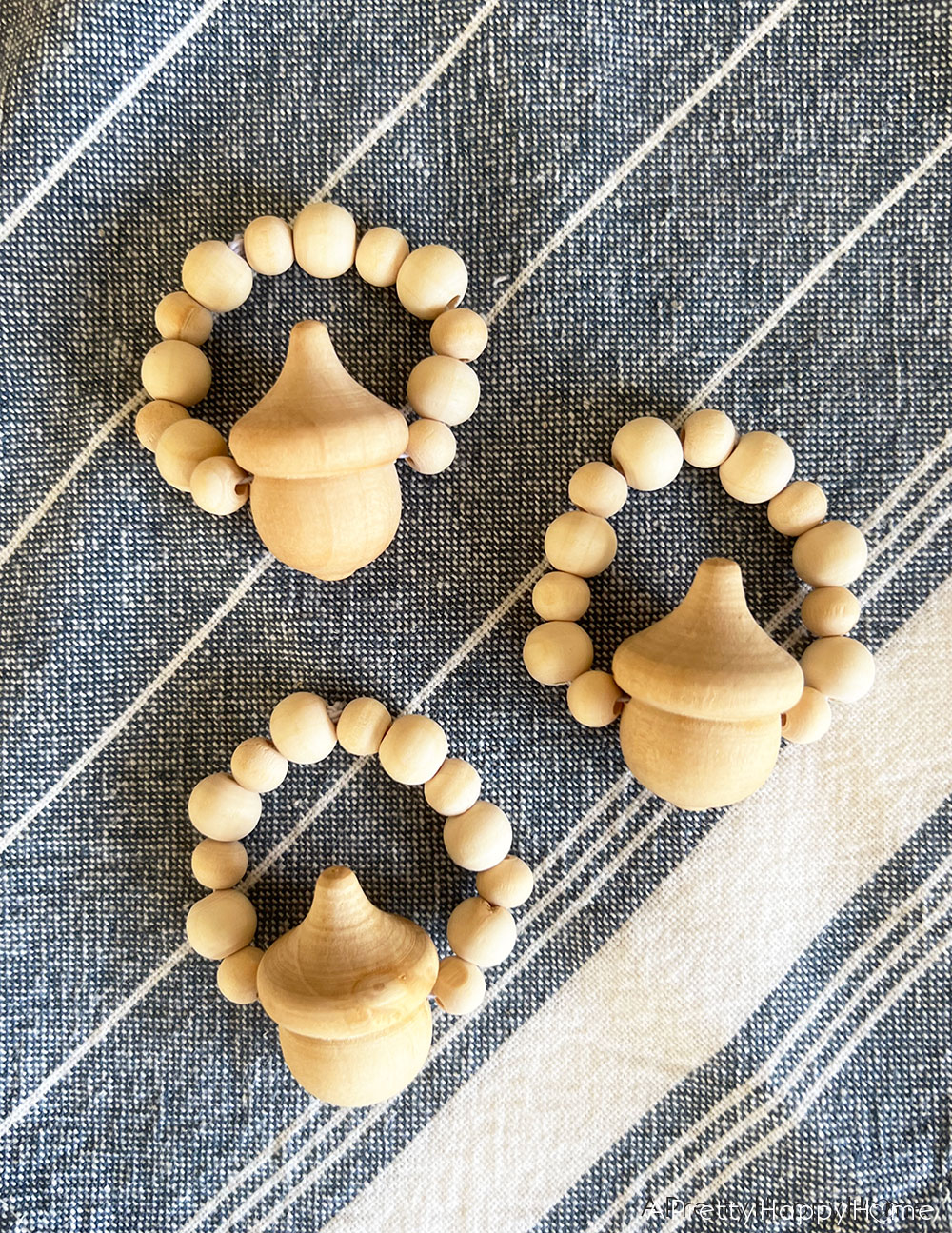 Play around with different configurations of beads until you get the size and look that makes your heart swoon.
Definitely have a cloth napkin on hand to test your creation until you land on a combination that works for you. I ended up with a small bead on either side of the wood acorn, so that it wouldn't pull too much when placed around the napkin.
When you've finished stringing the beads, tie off the elastic and snip the ends.
Tip: I found it easiest to string the beads by threading them onto a needle.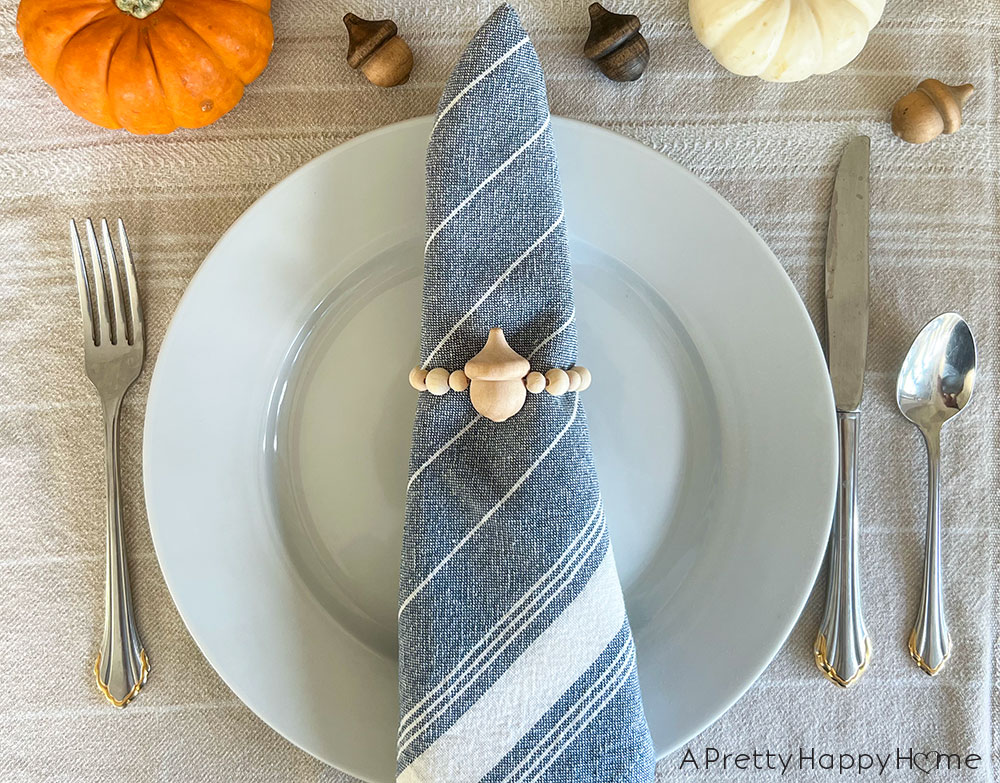 ---
The only thing that's left to do is set a gorgeous table and enjoy the heck out of what you just created, preferably surrounded by all your favorite people.
Crafts are great, but sharing them with loved ones is even better.
I hope you like this idea and take it and make it your own. I'd love to see how you were inspired and what you end up creating. You can always comment on this blog post (I have to approve it first before it appears), email me here, or reach out via Instagram or Facebook. If you know someone who would like this idea, please share this blog post with them. You'll get all sorts of good karma for sharing fun ideas!
Happy crafting!
---
Thanks for being here today. I love sharing ideas with you. Here are some other ideas that might make your heart go pitter-patter in a good way. Not in a "need to go to the ER" kind of way. Good vibes, only! 
9 Pumpkin Crafts to Make This Fall
How to Use a Soup Tureen as a Fall Centerpiece
Halloween Cauldron Centerpiece
*affiliate links in this blog post*