4 Bread Recipes I Make On Repeat
We eat a fair amount of bread in our house. Life's too short not to enjoy carbs, right? All. the. carbs.
However, I don't regularly buy bread from the grocery store unless my kids are going through a bagel phase or we are having burgers for dinner.
If we're eating bread it is usually because I've baked it. Yes, I'm one of those people. It's not that I enjoy the act of baking bread particularly, but I do enjoy eating it.
Here are 4 bread recipes I make on repeat around here. They never fail me.
I'm also using the word bread loosely here. If it is dough-based, it's bread no matter the finished form it takes.
---
Artisan, No-Knead Crusty Bread by Recipe Tin Eats
If we're having soup or BLTs, I make this crusty bread from Recipe Tin Eats. The kids devour it!
You don't have to knead this dough. You can let it rise overnight or for just a couple of hours. It's a very forgiving recipe for beginners and those of us in a hurry. It takes about 3 minutes of active working time to stir the ingredients together.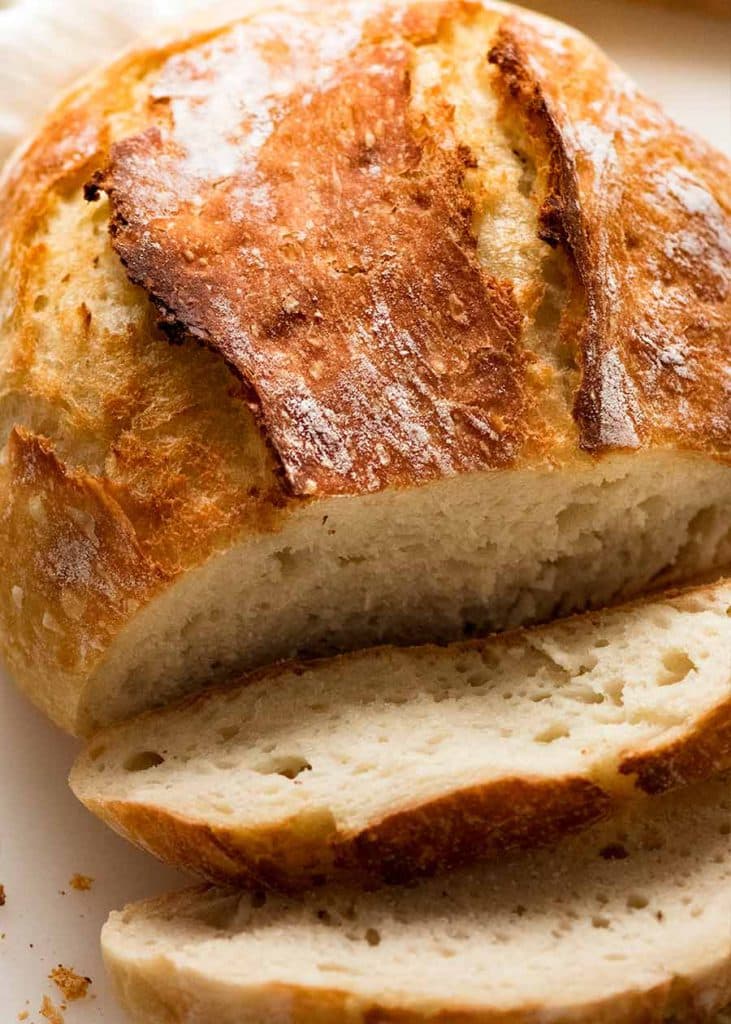 (image: Recipe Tin Eats)
I will say, I can never get my crusty bread to have quite as many holes as the recipe's pictures show but I also don't have a dutch oven to bake it in. It still tastes delicious though.
---
Homemade Naan by Half Baked Harvest
I haven't made a recipe from Half Baked Harvest that I haven't liked. This naan bread is no exception.
I know naan is typically served with curry dishes. However, I let my kids eat it with cinnamon and sugar and tell them it is an Elephant Ears pastry. Sometimes I'm the fun mom…at least when it comes to naan.
If you have leftovers, this naan bread makes a delicious grilled cheese sandwich too.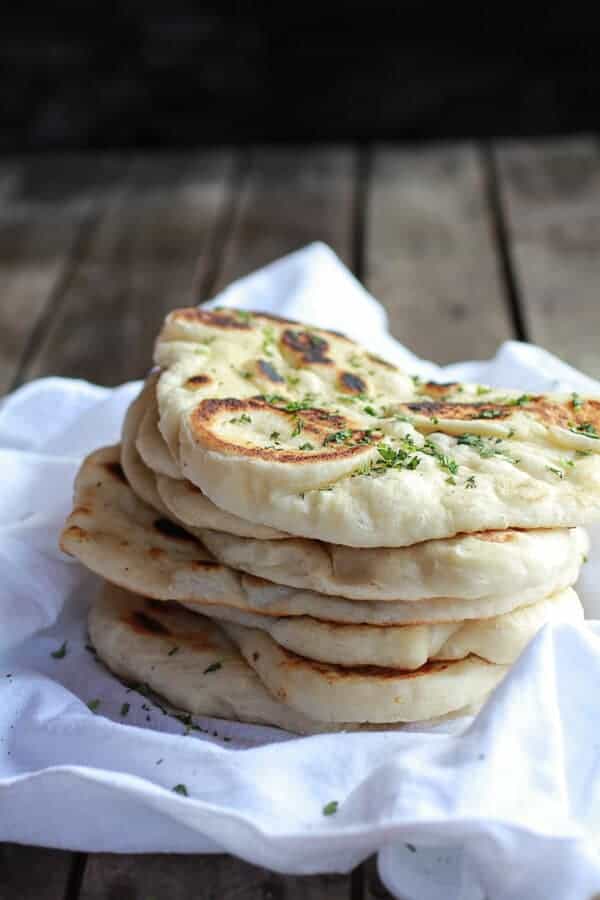 (image: Half Baked Harvest)
The only downside with naan is that you're cooking each individual naan in a pan. Even though it only takes a minute or two to cook each one, it still adds up. I usually save naan bread for weekend meals when I'm not in such a rush.
---
Navajo Fry Bread from What's Cooking America
Have you ever had a taco on fry bread? It will take your taco to a whole different dimension.
I had a taco on fry bread years ago when I visited Little Bighorn Battlefield in Montana. Both the history of Little Bighorn and the culinary experience stuck with me. Although, only one of them stuck to my hips.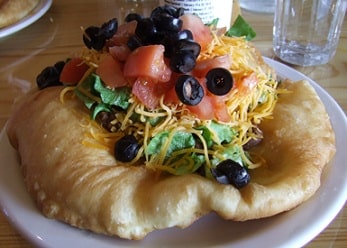 (image: What's Cooking America)
Whenever we serve tacos with fry bread folks ask how they are supposed to eat it. I'm not sure if there are rules, but it is kind of messy so we eat ours with a fork.
Fry bread by itself with just butter and salt is also what bread dreams are made of.
Please note that this recipe calls for a little bit of powdered milk. I never have that. I just substitute regular milk for the water.
---
Sweet Potato Garlic Knots from Tasty Kitchen
I cannot state this strongly enough if you eat these bread knots, you won't ever want to eat another type of dinner roll. People will beg you for the recipe. You'll be the hit of every potluck.
These rolls are so soft and so flavorful and make every other roll out there taste like dust. Not that I have strong opinions on this topic or anything.
The recipe calls for half a cup of sweet potato, but you can substitute canned pumpkin. By the way, the rolls don't taste like sweet potatoes but they will give the dough an ever-so-slightly orange tint.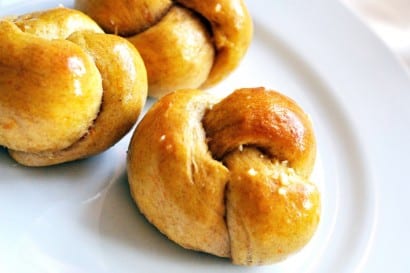 (image: Neil and Jessica at Kohler via Tasty Kitchen)
P.S. You don't have to do the twisty thing if you don't want to. The recipe works just fine if you make them roll-shaped.
P.P.S. I've also added sausage and cheese to this recipe to make the bread knots almost like a meal unto themselves.
---
If you need a bread recipe, I hope you'll give one of these 4 bread recipes I make on repeat a try.
Do you have a bread recipe I should try? I'd love to know. You can always comment on this blog post, email me here, or reach out via Instagram or Facebook.
Happy baking!
P.S. I would be remiss if I did not tell you the bread we eat every day for breakfast is a copycat version of Dave's Killer Bread. It's probably the all-time most-viewed blog post on this site. I add cinnamon and raisins to the version I make for Handy Husband.
---
Thanks for being here today. If you read this entire post that probably means you like bread as much as I do and that sounds like the beginning of a beautiful friendship. Since we are friends now, here are some other blog posts you might enjoy.
What is the best constructive criticism you've ever received?