Adding To Our Concrete Pool Deck Ourselves
Patience is not one of my virtues but I did wait almost 4 years for us to add a 5-ft x7-ft section to our concrete pool deck. Yes, we poured that concrete ourselves.
I should rename this blog "Gluttons For Punishment."
Another suitable blog name would be "We Like To Save A Buck But Dang That Concrete Is Heavy."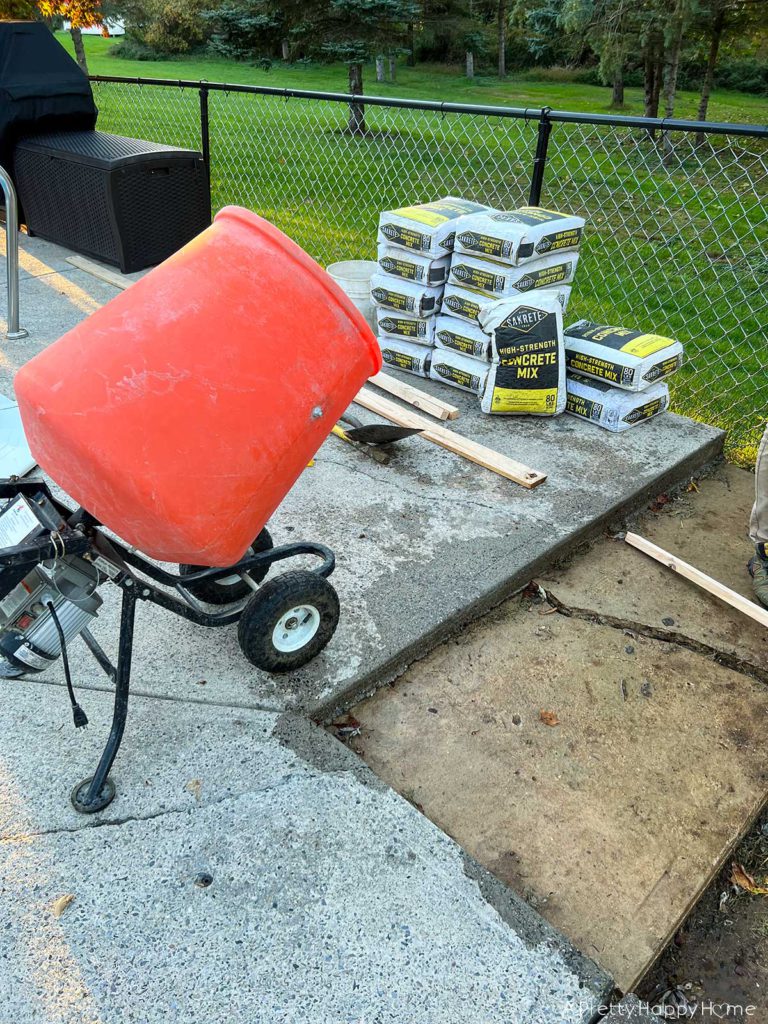 Thankfully, Handy Husband has experience pouring concrete and I'm a decent assistant as long as I'm not required to lift more than a handful of 80-lb. bags of concrete. After that, it is possible that whining occurs.
It's ironic that Handy Husband ran a concrete line pump when we first got married and he went back to college so that he didn't have to work with concrete and here we are pouring concrete all these years later.
At least it's because we chose to do it to save money and not because we had to do it. You never know when those odd jobs you work will come in handy down the road.
Speaking of choices, we didn't set out to buy a home with a pool but that's what we ended up with.
For kids who grew up swimming in creeks, we consider having a pool – even an old pool that needs a bit of work – a luxury.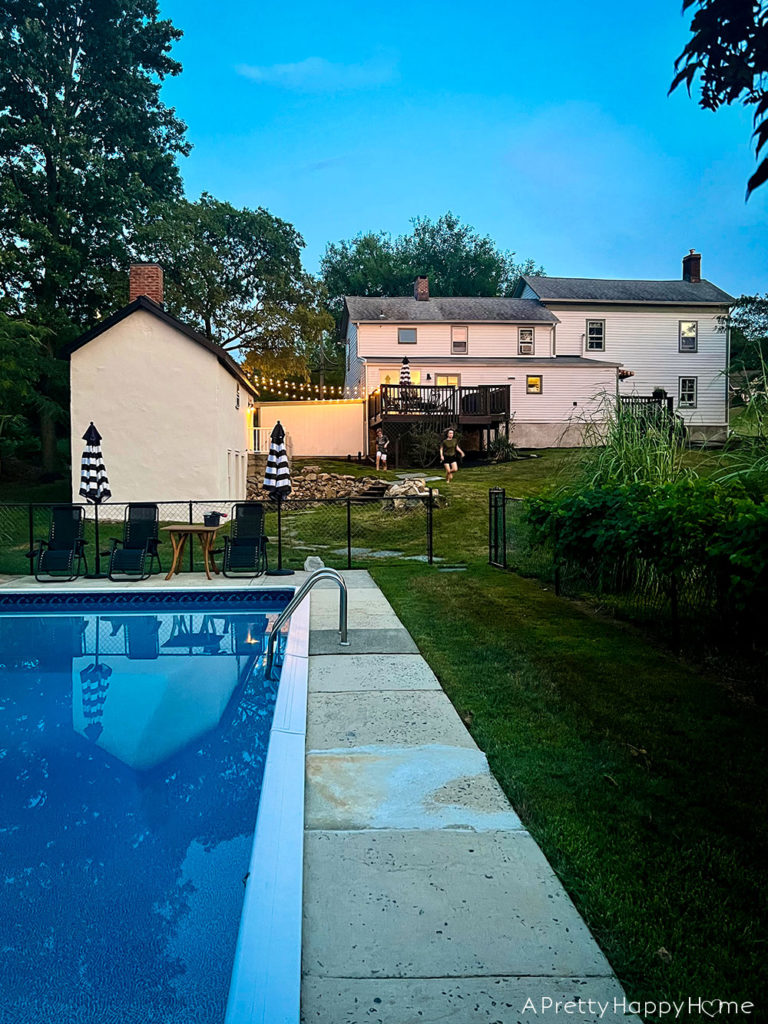 One item concerning the pool deck we wanted to address for cosmetic, safety, and spatial reasons was the 5-ft x 7-ft area in the back corner that did not make sense.
It looked like new concrete was poured on top of the old concrete but not in one specific place, which led to a 4-inch step-down. I have a pretty active imagination and I cannot come up with a good reason why this would have happened.
There was also a sliver of an old flowerbed still remaining on the right, which created a second step-down.
The step-down situation, in particular, was a safety concern. It would be easy for someone to step off that ledge accidentally and twist an ankle. It also made this entire corner unusable from a seating standpoint.
I have also watched IN HORROR as a deer got inside the pool fence, ran around the pool deck, and dove UNDER the fence in this wacky corner to escape. It's no wonder this fence is so mangled in this area.
I don't know why the deer didn't jump over the fence, but I'm just glad it didn't jump IN the pool. Can you imagine?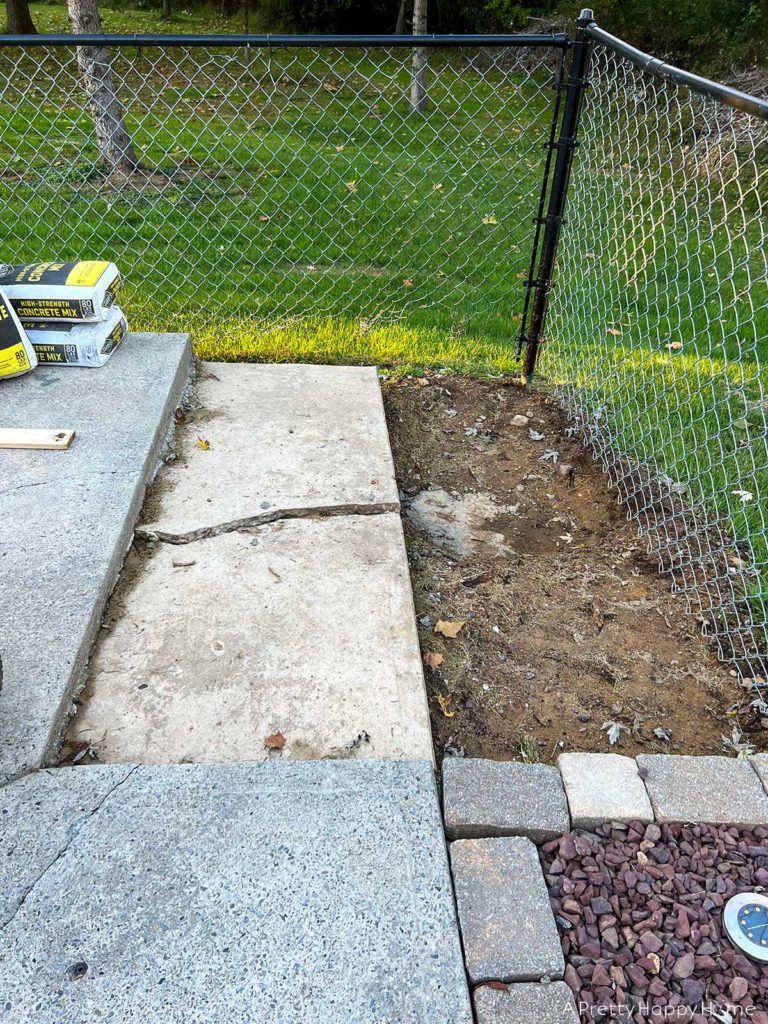 Last fall, it was time to start adding to this concrete pool deck.
In a less-than-ideal situation, we had 13 bags of concrete to use up. You don't want bags of concrete to sit for too long in a non-climate-controlled setting. It will absorb moisture and harden right in the bag.
It took the full 13 bags of concrete just to pour that flowerbed up to the level of the first slab. It would have been better to finish the project all at one time but we decided we were tired and didn't want to pour any more concrete or money into this corner at that moment.
We let the slab sit unfinished for six months until this spring when we ordered 15 more bags of concrete to raise the remaining 5-ft x 7-ft section up to level with the rest of the pool deck.
It was a long build-up for a mere 90 minutes of work. You have to move quickly when working with concrete. Ironically, we spent more than 90 minutes just talking about finishing this project over the last 6 months!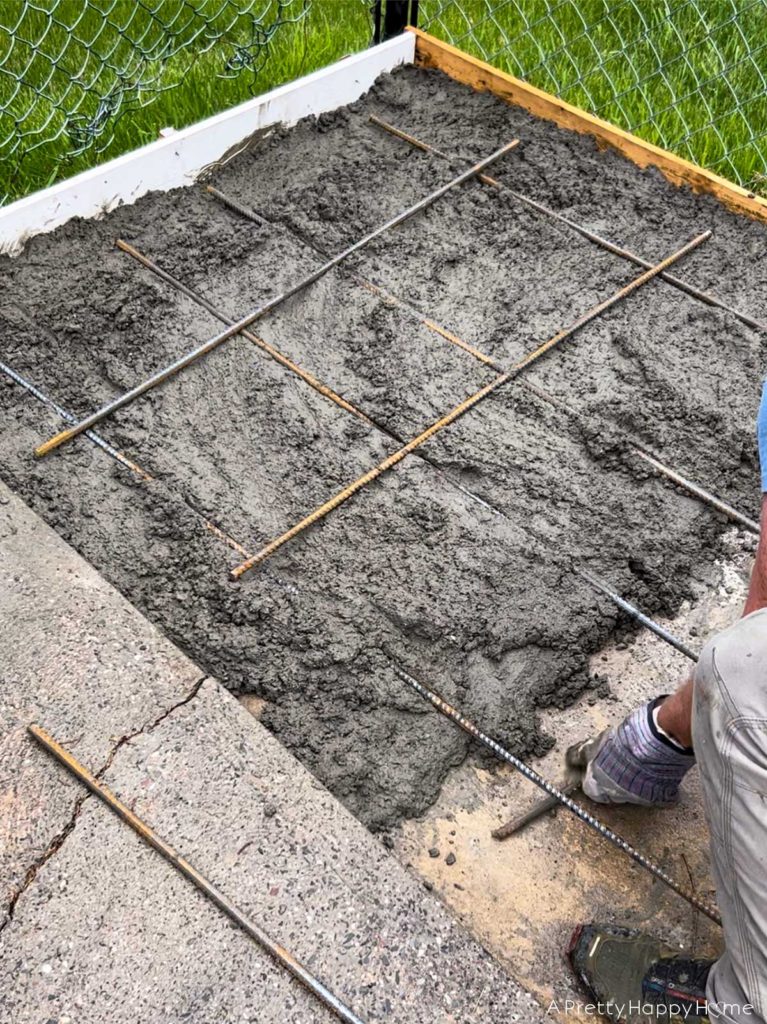 All told between concrete and rebar, we have about $200 or so of materials invested in this pool deck improvement.
We also own a concrete mixer. It's not a cheap tool. They run between $400 – $500 but since we've probably used it a dozen times since buying this house, I guarantee it's paid for itself in the last 4 years in equipment rental fee savings alone.
So, for $200, a concrete mixer, and a whole lot of muscle, I'd say we did alright.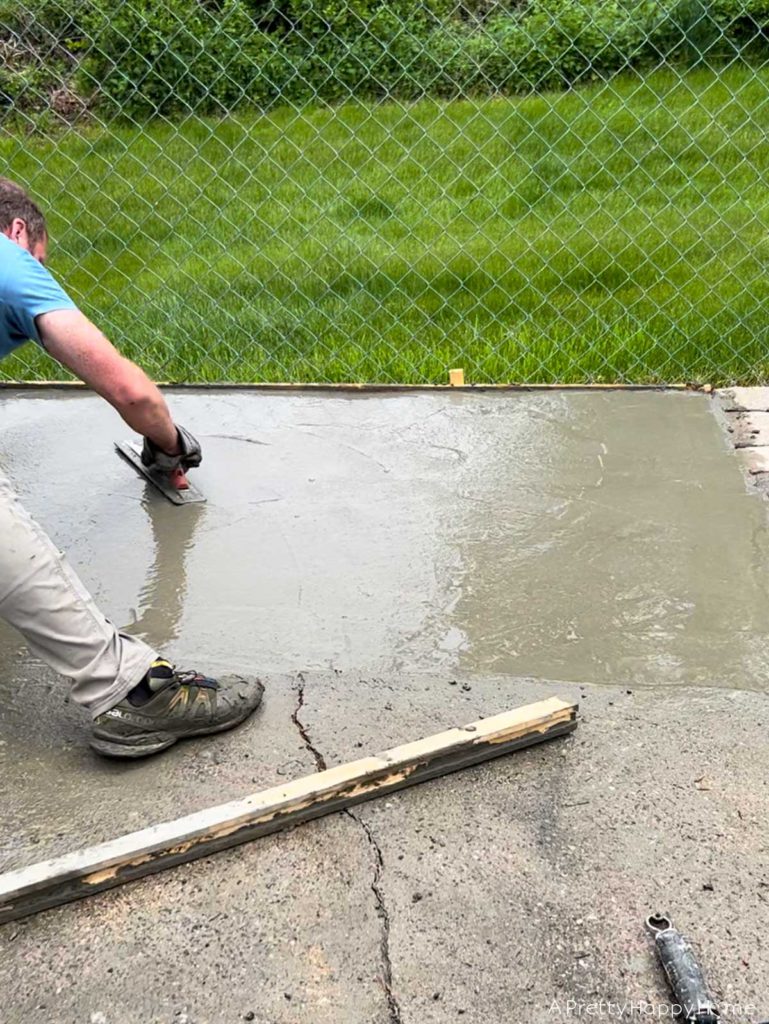 We finished adding to our concrete pool deck just in time for the official start of summer in the U.S., Memorial Day.
Between you and me, the water is still too cold to swim in, but the kids don't seem to mind the cold.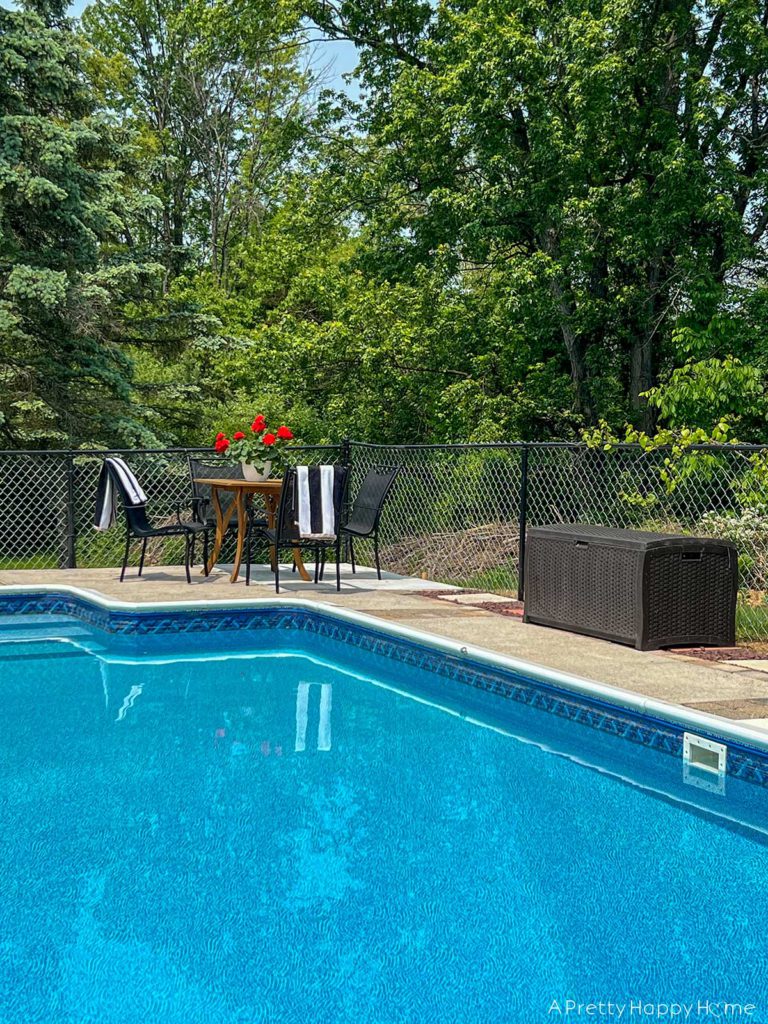 The only thing to do now, besides enjoying our newly expanded concrete pool deck, is to find an outdoor dining table that fits this new section. I have a temporary table sitting here but am on the lookout for a round table.
Has an odd job you worked when you were younger turned into a handy skill to have later in life? I'd love to know. You can always comment below, email me here, or reach out via Instagram or Facebook.
Happy Summer!
---
Thanks for hanging out with me today. The only thing better would be if we were hanging out at the pool! Since that's probably not happening, how about another blog post? You might enjoy one of these.
Closing Waistband Gap On Jeans With Elastic
Decorating With Thimbles In A Modern Way