DIY Pool Maintenance Tool Holder For Leaf Skimmers and Poles
Today, I'm sharing the DIY pool maintenance tool holder we made to store our leaf skimmers and telescoping poles during pool season.
Pools are awesome but they also come with a lot of stuff to maintain them. All of those pool maintenance tools need a place to go that's out of the way but also easily accessible.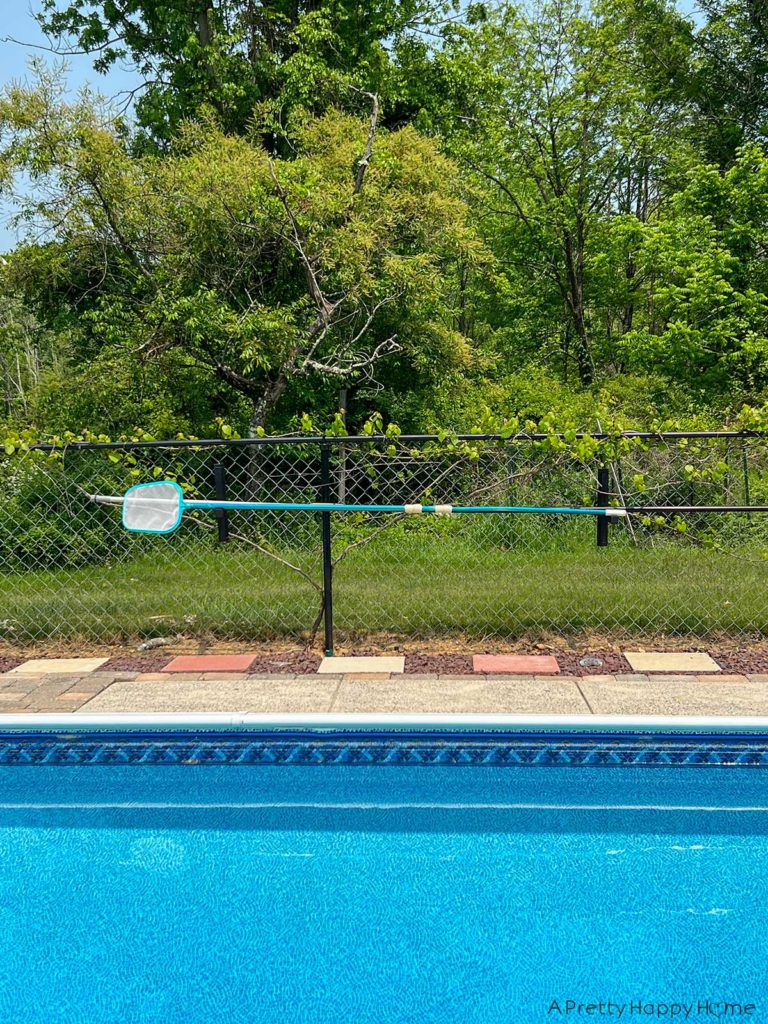 There are storage options you can buy to hold your leaf skimmer and other telescoping poles, but when you have a problem to solve and loads of scrap wood in your garage, a DIY solution is definitely happening.
We made a rack out of wood that attaches to the pool fence that can store 4 telescoping poles horizontally.
This keeps the pool maintenance equipment off the ground but nearby when you need to scoop leaves and bugs out of the pool. Nature is great but it's also messy.
Here's how we made our DIY pool maintenance tool holder.
---
DIY Pool Maintenance Tool Holder Dimensions:
2 Vertical Pieces That Attach To The Fence/Wall: 17 inches tall  x at least 1.5 inches wide
2 Horizontal Pieces That Hold The Poles: 10 inches x 1.5 inches x 2 inches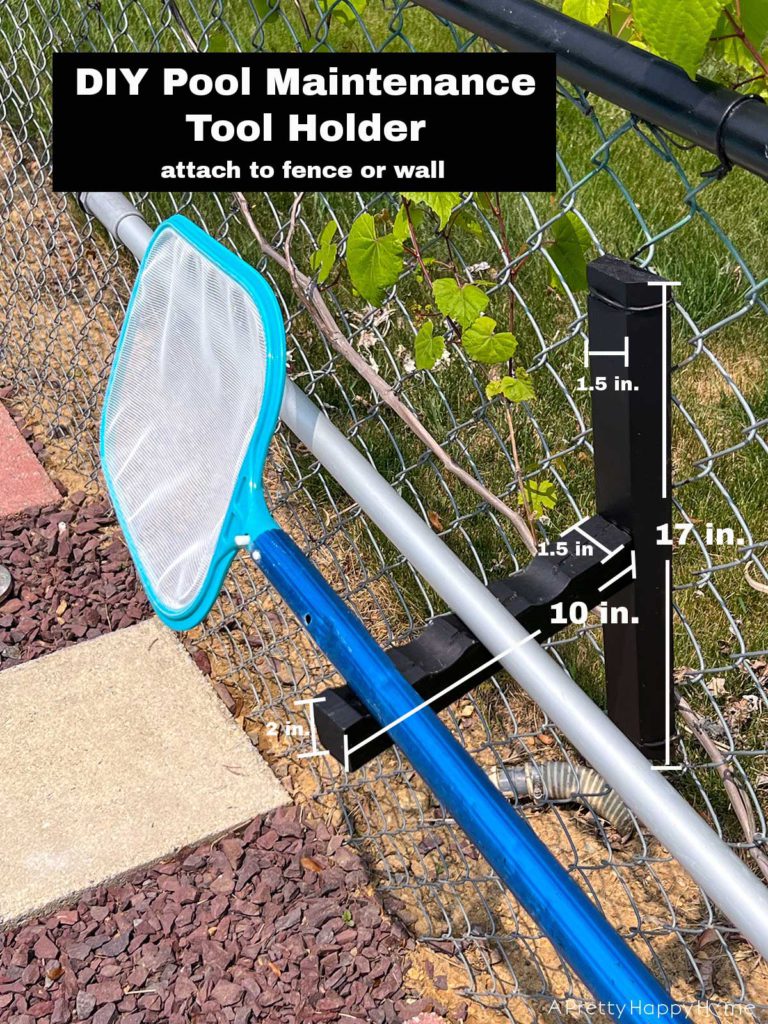 To Make a DIY Pool Maintenance Tool Holder:
Cut scrap wood to dimensions shown above.
To make the grooves for the poles to rest in, we used a belt sander.
Attach the horizontal piece to the vertical piece using a pocket screw. You can add a diagonal brace underneath if you want, but it shouldn't be necessary as the poles are pretty light.
Stain or paint to seal the wood. We used an exterior, solid color stain.
Attach to a chainlink fence with wire. If you're attaching to a solid fence or wall, you can use screws. Hang the brackets just far enough apart that they hold your shortest leaf skimmer or telescoping pole in place.
Repeat directions to make a second bracket.
---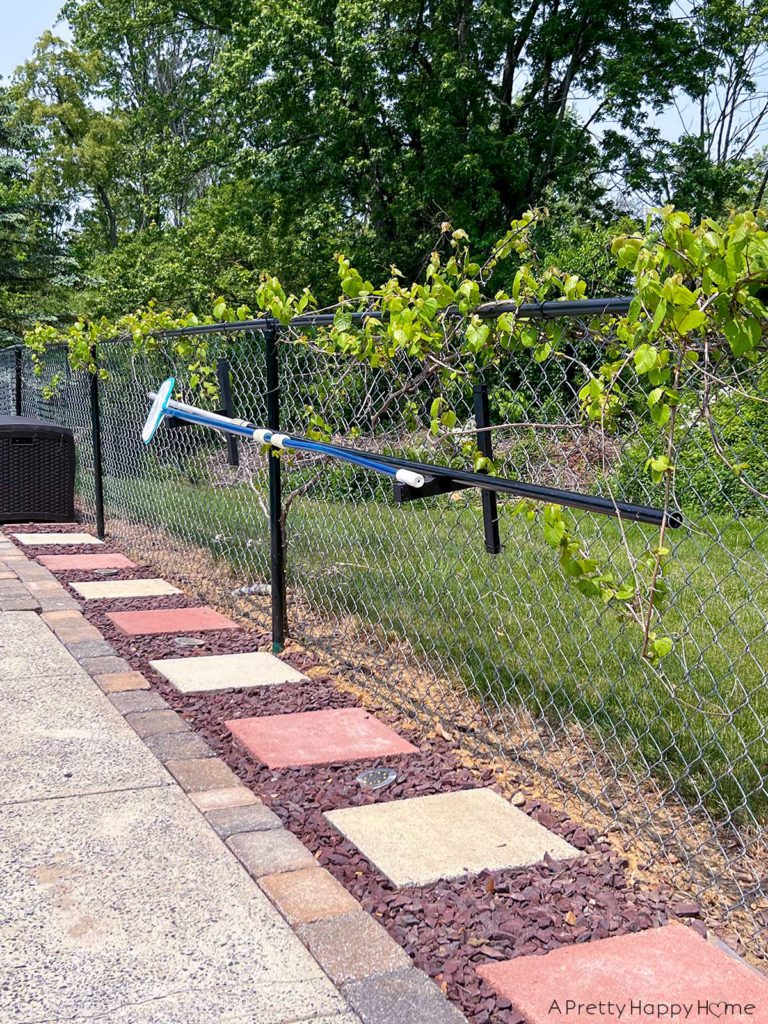 We've had this pool maintenance tool holder hanging on our pool fence for three years now. We leave it up year-round. I just gave it a new coat of stain but other than that, it's held up so well.
I hope this storage solution helps streamline your pool season!
If you build this DIY or improve upon it, we'd love to know. Your ideas and solutions may help someone else. You can always comment below, email me here, or reach out via Instagram or Facebook.
Happy swimming!
---
P.S. These are the pool floats and toys our teens have been having the most fun with lately.
Adult-sized tube with handles and no mesh bottom (it's 47″ wide)
47″ inflatable basketball hoop (This has been the biggest hit! Comes with a ball.)
6′ floating island that looks like a watermelon (There's a lot of scrambling off the island to dunk the basketball.)
Floating lounge chair that keeps you dry.
---
Thanks for being here today! I love sharing ideas with you. Here are some other blog posts you might enjoy. 
How To Paint Metal Pool Coping With Marine-Grade Paint
The Painting I Rescued From The Trash
Wood Bowl Makeover – All You Need Is Sandpaper
*affiliate links in this blog post*