Fall Mantel With Leaf-Stamped Wood Rounds
Last week I shared how to leaf stamp on wood. You know I don't make crafts unless I plan on using them, so let me show you my fall mantel featuring a grouping of leaf-stamped wood rounds.
I do declare that it looks beautiFALL.
That probably won't be the last bad fall pun in this blog post as I'm feeling a bit acorn-y today.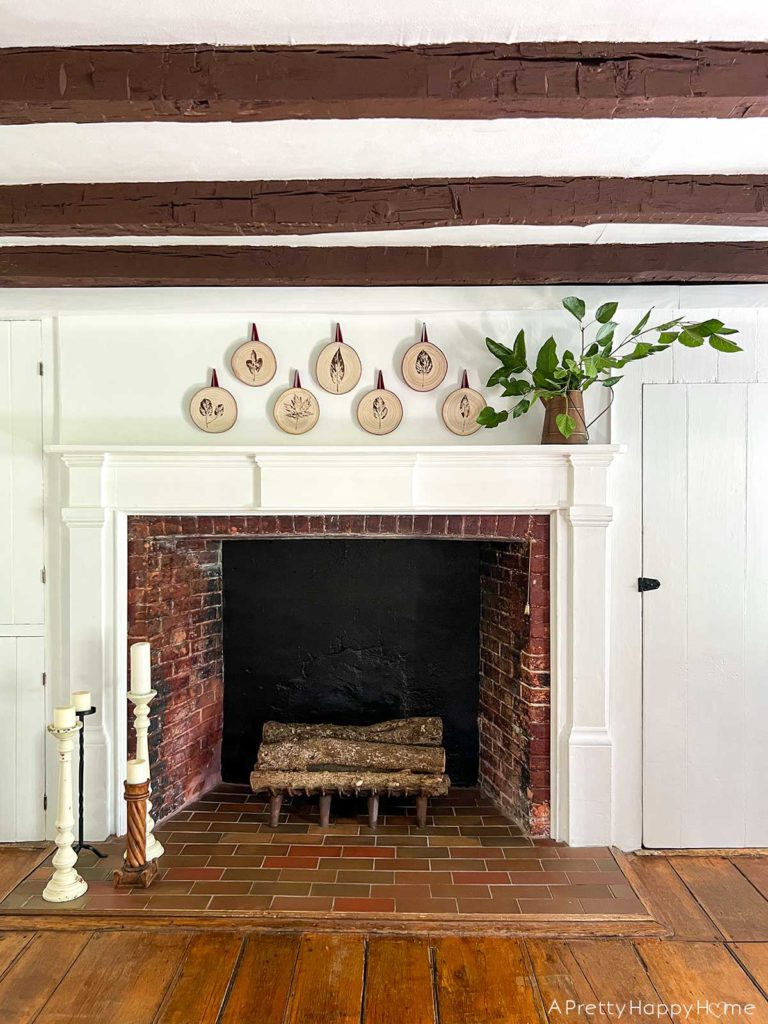 Our dining room fireplace is my favorite of our three fireplaces to decorate seasonally.
It's the only one that I change the decor on regularly even though spatially speaking it is the trickiest to decorate.
The overmantel, the spot above the mantel where decor goes, is pretty short at around 20 inches.
Have you ever heard the phrase that kid is all leg? Well, this fireplace is all firebox.
It's not that the ceilings are short. They are around 8 feet tall. The fireplace is just THAT big, which is pretty normal in a house that dates back to the late 1700s. This fireplace was likely originally used for cooking and the priority was placed on space for a fire and cooking implements, not on mantel decorating.
My how times have changed.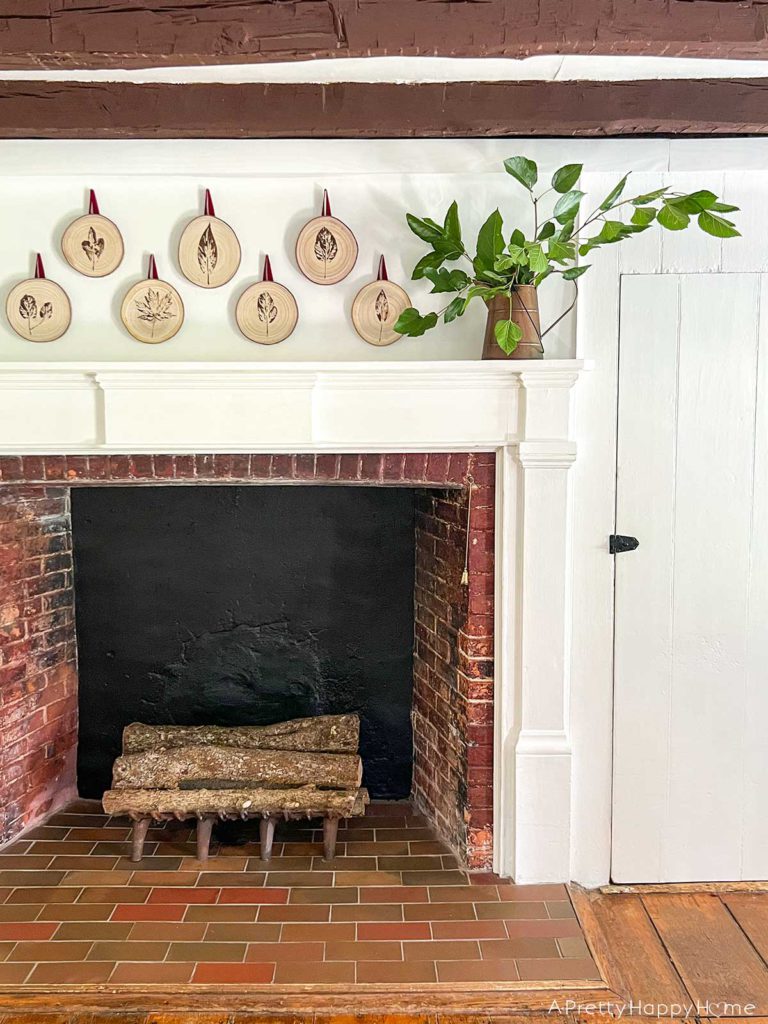 The point of this spicetacular story is that getting the proportions right for decorating this long, narrow space is tricky.
That's why I went with a grouping of my leaf-stamped wood rounds. It's simple but makes a big impact with seven of them hanging there together.
If you want to leaf stamp your own wood rounds all you need are wood rounds, fresh leaves, and paint. You don't even need a paintbrush.
I'm not joking.
Fingerpainting for the win.
It was definitely a gourd time. (You can get the directions here.)
If you don't have a mantel, there are plenty of other places you could hang or use these leaf-stamped wood rounds. You could hang them from a peg rail, place them on a shelf, or hang one on your front door.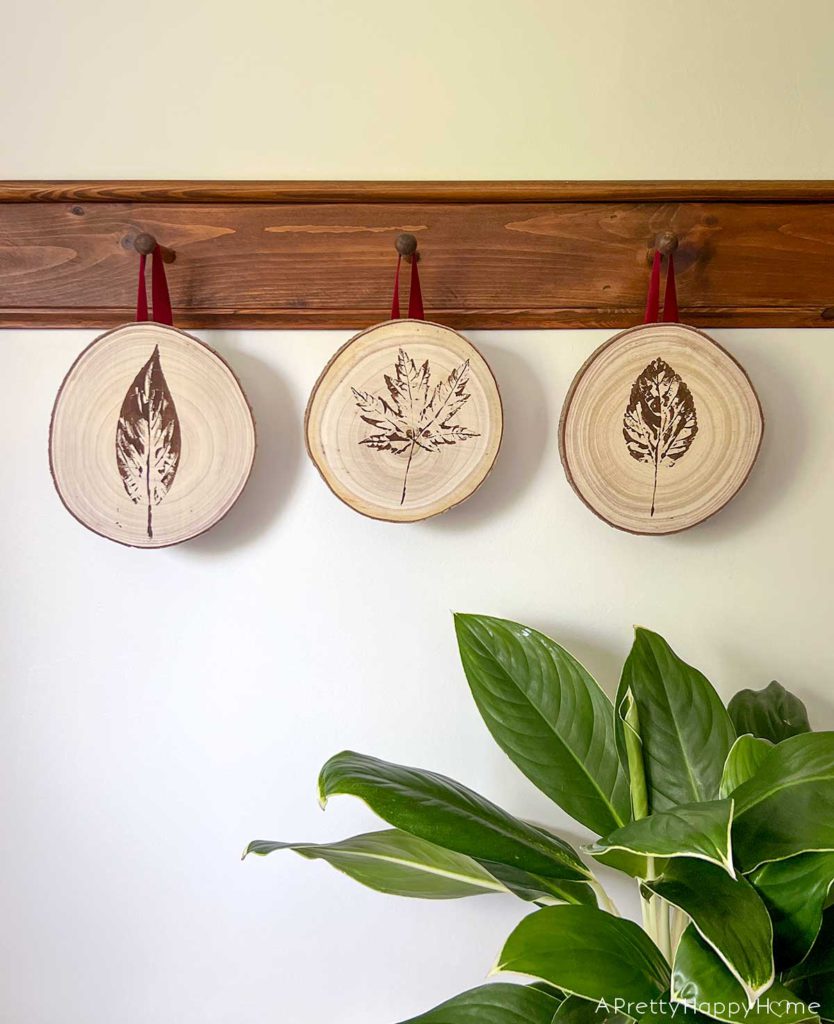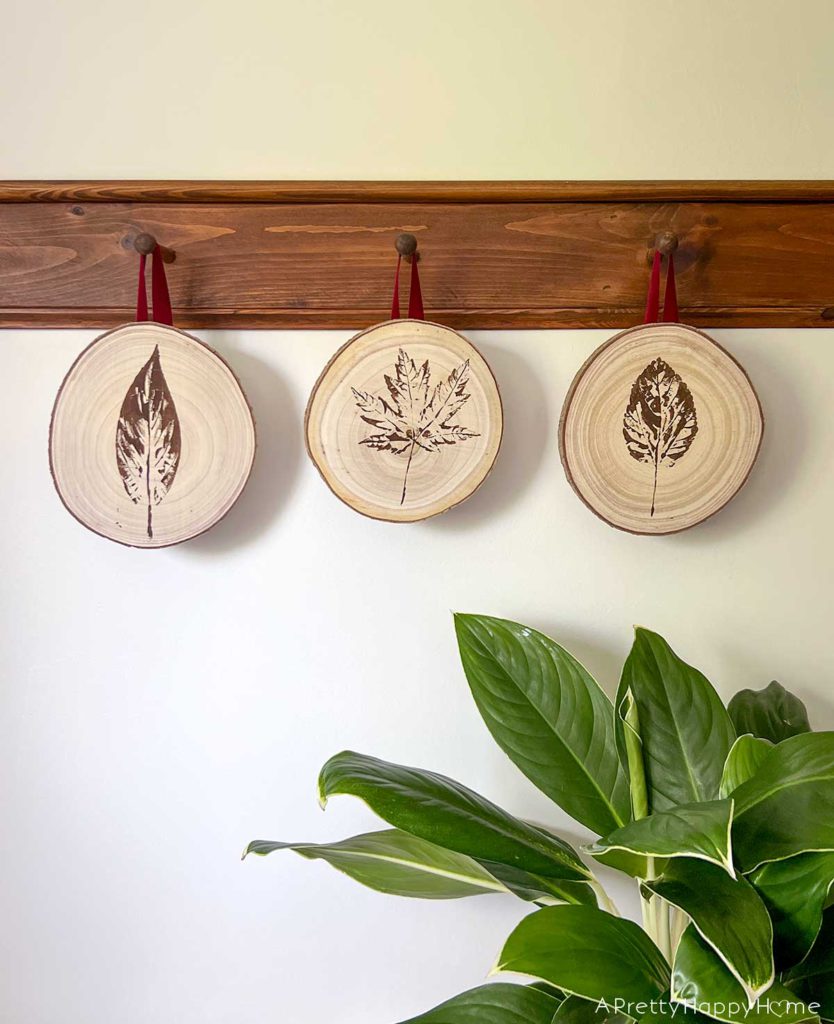 What do you think of my fall mantel with the leaf-stamped wood rounds? Is this a fall craft that you'd try? Do you decorate for fall? Or are you still mourning the end of summer?
I'd love to know. You can always comment on this blog post, email us here, or reach out via Instagram or Facebook.
Happy decorating!
---
Thanks for being here. You really autumn know that I have more blog posts you might enjoy reading. I can't promise there will be bad puns in them though. 
5 Fall Decorating Tricks To Give Your Home Cozy Vibes