Fall Coffee Table with Blue Accents
Today's "Fall Coffee Table with Blue Accents" post came about because a friend sent me the prettiest blue and white bowl.
I know what you're thinking.
YES! I do have pretty awesome friends.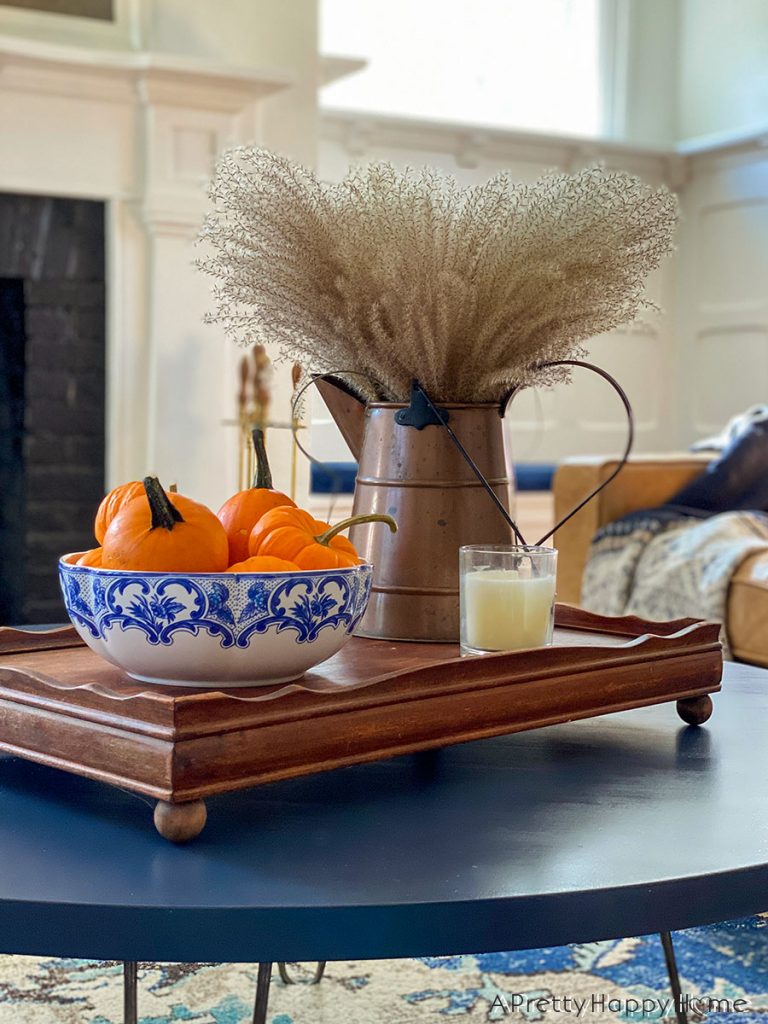 I don't have a lot of friends (I'd have to leave my house more often for that), but the ones I do have are the life-altering ones. The ones that you plan on raising a ruckus with in the retirement home.
This particular friend is the one who I exchange 100 text messages with per day on all the minutiae and hilarity that is our lives. Everyone needs a friend who you can confess to that you were walking around all day with a pair of underwear wadded up in your pant leg and how you surreptitiously extracted that pair of underwear without anyone being the wiser.
Not that that has happened to me.
More than once.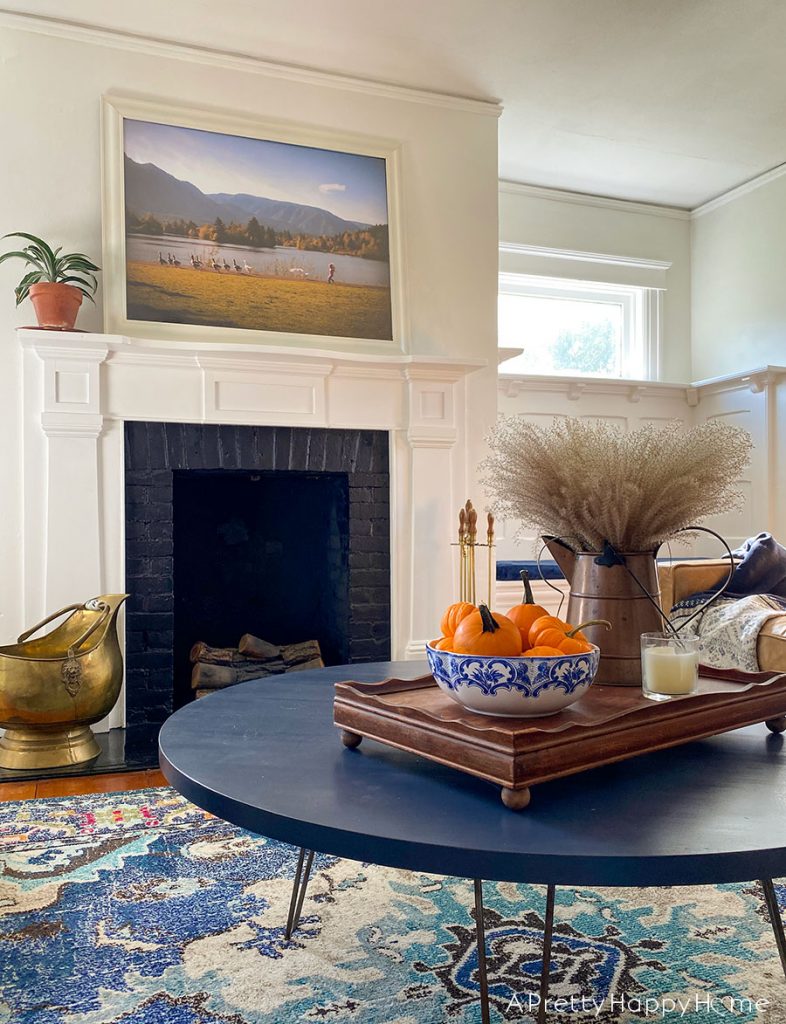 I love that she saw a blue and white bowl she found at a thrift store and thought I needed it in my life. Because I do.
She doesn't just send me any blue and white chinoiserie bowl. She sends me a Tiffany bowl.
Yes, THAT Tiffany. Little blue box Tiffany. Breakfast at Tiffany's Tiffany.
Her family is in the thrift store business, so she's also CONNECTED to all the good stuff that crosses a thrift store's doors.
She's also connected to all the scary, bad, smelly, horrific, garbage stuff that crosses a thrift store's doors too. But we won't go there today. Or maybe ever.
Or maybe we should?
Let me know what you think about that idea and I'll see what I can do.
This friend thought I'd put fruit in this bowl.
Oh, no, no, no.
Unless by fruit you mean pumpkins.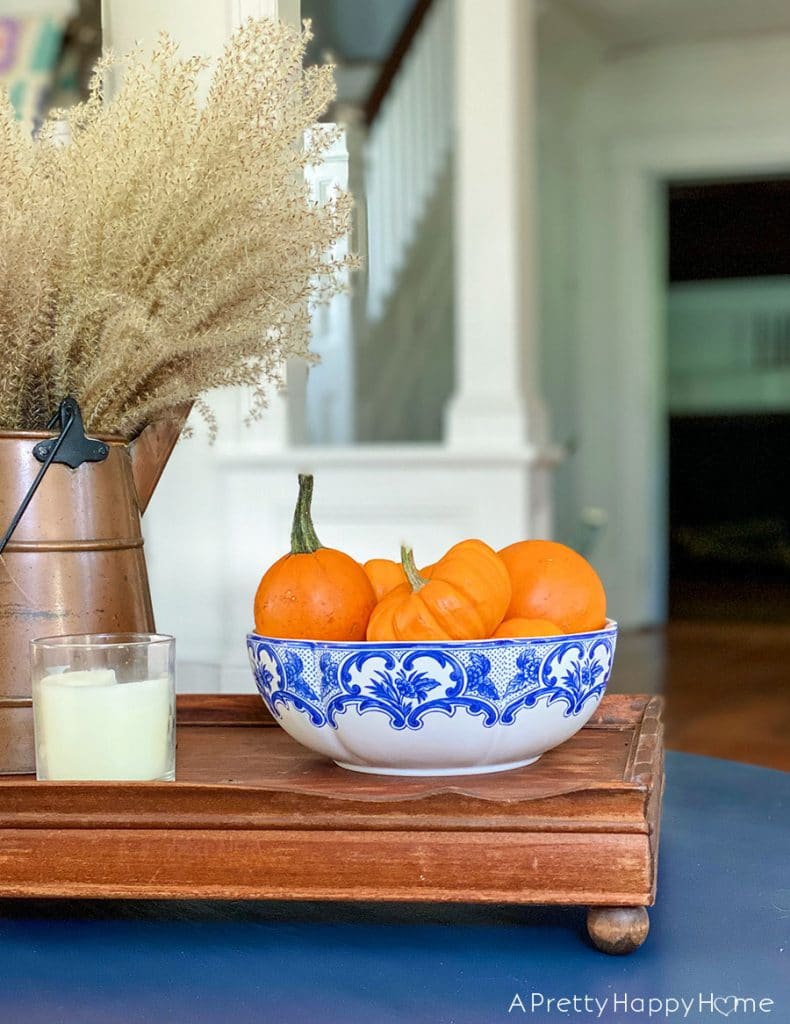 I knew orange pumpkins would look striking in this blue and white Tiffany bowl because orange and blue are complimentary colors. In fact, orange and blue are directly across from one another on the color wheel.
There's also a little bit of orange in my living room rug, so it ties in nicely with my bowl of pumpkins.
While blue might not be a traditional fall color, I'm here to say that a room with blue accents can throw off decidedly cozy fall vibes if you plop some pumpkins in the space. A bouquet of ornamental grass doesn't hurt either. If I had some acorns handy, I'd toss those around this table like confetti too.
My fall coffee table with blue accents makes me happy, but not as happy as the friends who love me through thick and thin.
---
P.S.
I still love my living room rug
. It makes me happy to look at it. There are enough colors in this rug that I can make it work for every season except Christmas. Traditional red and green do not play nicely with this rug.
I also love that my coffee table used to be a dining room table. The round shape breaks up all the straight lines in this room.
What else do I love? Well, the tray on this table used to be a side table. To make it into a tray, I just cut the legs off the table and added little decorative knobs as feet.
P.P.S. The thrift store where my lovely Tiffany bowl was found is The Thrift Store on River Road N in Keizer, Oregon.
---
Thanks for hanging out with me today. I've told you an embarrassing story and you still stuck through to the end of this post, so how about another one?
That Time I Turned a "How to Stop Smoking Book" into a Really Bad Paper Pumpkin
That Time a Bird Kept Making a Nest in Handy Husband's Shoe
When Your Husband Takes Your Prank Seriously
*affiliate links in this blog post*