3 Reasons to Love Tiffany Style Lights
Tiffany style lights can be cool in your home or office!
Before you roll your eyes and click away, consider these three reasons to love Tiffany style lights.
---
Reason #1 to Love Tiffany Style Lights: They aren't trendy right now.
I know Tiffany style lights aren't trendy right now and that is part of their charm.
It's easy to wake up one day and realize your house looks very similar to everyone else's house because we've all been shopping at the same big box stores that want us to buy whatever they've determined is in style right now.
That said, I like a Target lamp as much as the next person, especially since I know they are safe. Have you ever wondered about the cord on a thrift store lamp? Yikes!
Pop a vintage Tiffany style lampshade on a modern lamp base and you have a fun, unexpected pairing of old meets new. Plus, crisis averted! You are no longer in danger of your house looking like everyone else's house.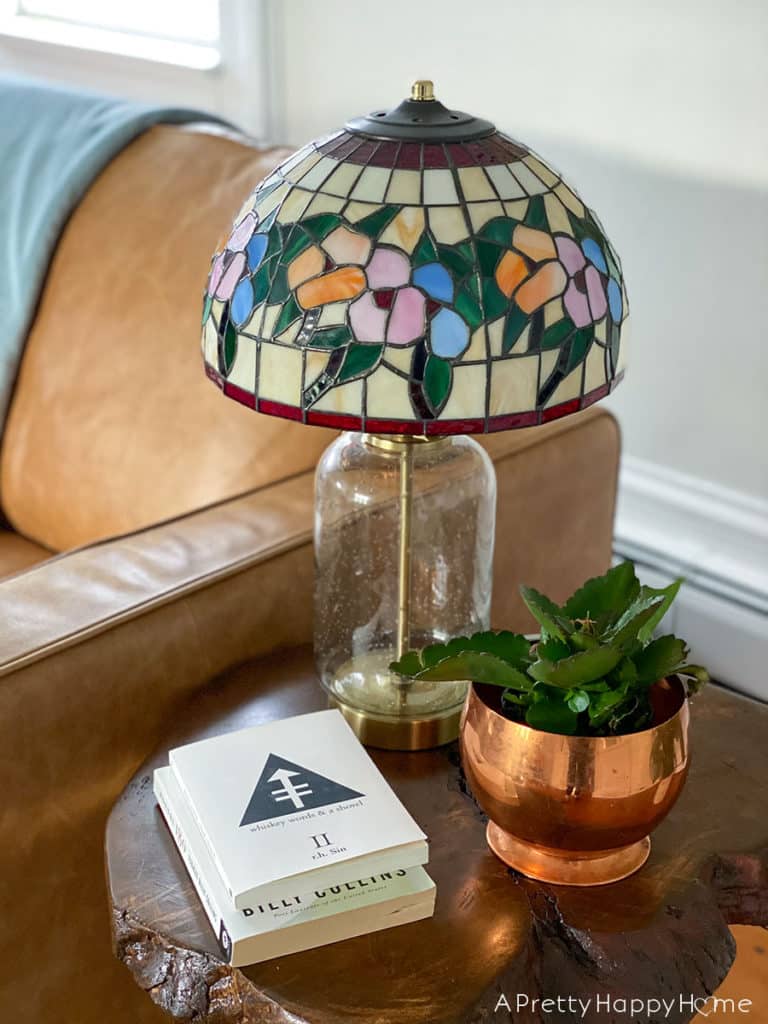 The real deal Tiffany lamps, especially those from the 1890s and early 1900s, can be worth a lot of money. However, the benefit of lights or lamps created in the style of the original Tiffany lamps NOT being trendy is that you can find them for a steal at thrift stores or flea markets.
There might even be a Tiffany style lamp tucked away in your grandparents' attic that they would give you for free!
---
Reason #2 to Love Tiffany Style Lights: Color, color, color! 
Not all Tiffany style lights float my personal boat in terms of pattern and color. In fact, I've been that person giving away Tiffany style lampshades because they weren't the right fit for my space.
Tiffany style lights are like jeans. There are thousands of options, sizes, shapes, and colors. Some are super flattering. Others…run, run far away from that muffin top disaster.
However, when you find one that does fit your style, it's a great way to add a happy burst of color to a room.
We're back to talking about lights, right?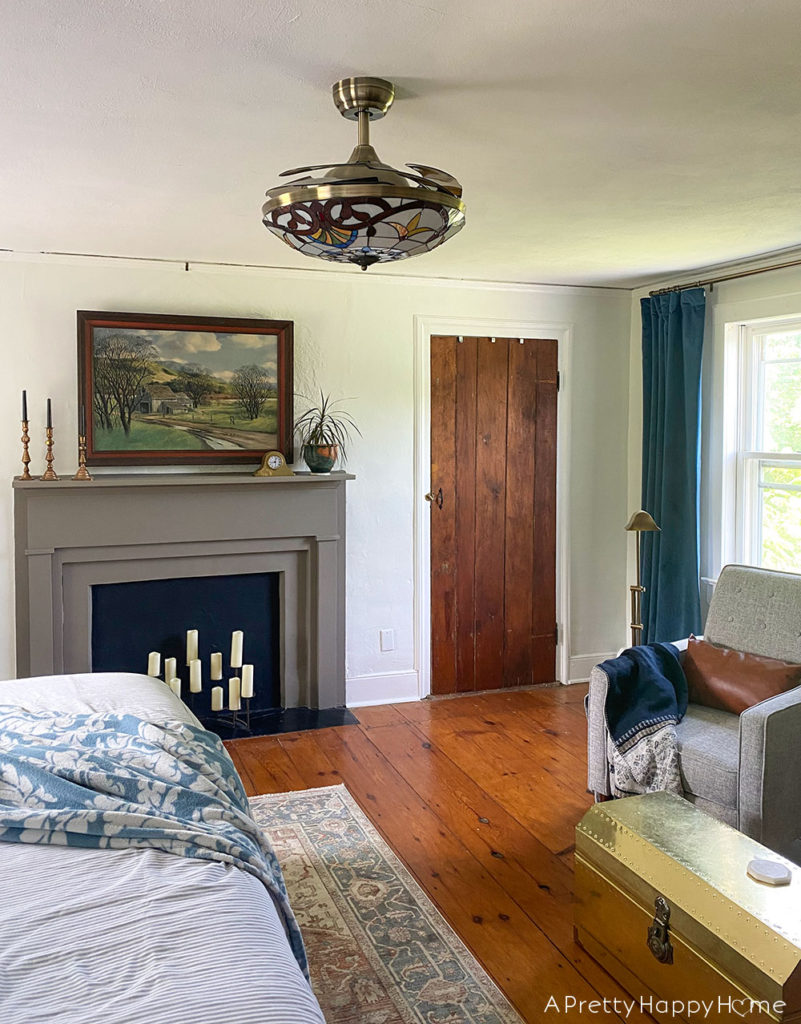 ---
Reason #3 to Love Tiffany Style Lights: They are more versatile than you think!
I'm not saying a Tiffany style light will work in every setting, but in the right setting, a Tiffany style light really shines.
(Sorry, I couldn't help myself with that joke.)
Maybe your home vibe is eclectic, so a Tiffany style light is another style layer.
Maybe you gravitate to a more traditional style, so a Tiffany style light feels right at home.
Maybe you just love the colorful glass of a Tiffany style lamp shade. So, go for it! You should absolutely love the items you surround yourself with every day and not worry about whether or not it is stylish right this second.
Maybe you have a sentimental attachment to a Tiffany style lamp because it belonged to someone you loved or, in my case, was a wedding gift from a family friend. I'm a sucker for a good story and filling your home with items that have meaning is the start of a very good story.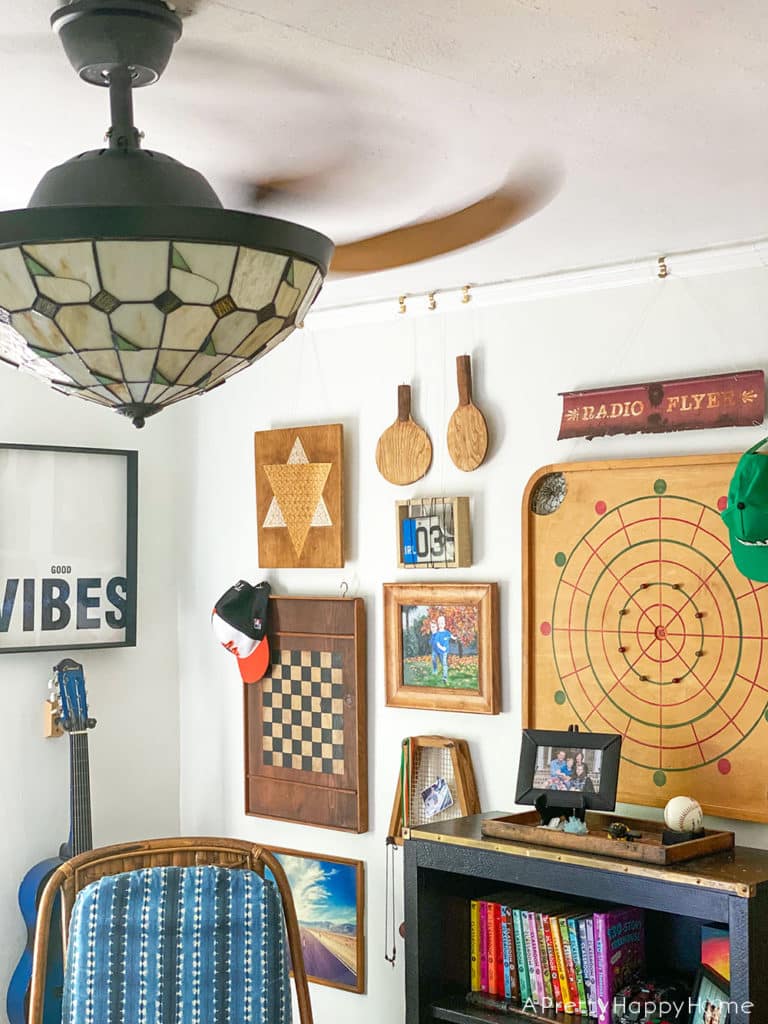 ---
On the pendulum of opinions are you a Tiffany style light lover, hater, or somewhere in-between?
I'll be happy if I've at least convinced you that in the right context a Tiffany style light can be amazing.
Have fun decorating!
---
Did you know? Tiffany lamps date back to the Art Nouveau period from approximately 1890 – 1910. The first Tiffany lamp was put on display in 1893. The designer of the lights was identified in 2007 as Clara Driscoll. For over 100 years, the credit had erroneously gone to Louis Comfort Tiffany.
Original Tiffany lamps were handcrafted using a copper foil method. Tiffany style lamps are typically mass or machine produced.
Read more here.
---
Lights show in this blog post:
42″ ceiling fan with green and tan Tiffany style shade and retractable blades
Owner's bedroom ceiling fan (similar, but a bit smaller than the one I have)
*affiliate links in this blog post*
---
Thanks for being here today. Here are some other posts you might enjoy!
DIY Live Edge Table – Target Side Table Hack
IKEA Lamp Hack – How to glam up a basic lamp shade