DIY Halloween Decals With Duct Tape
Oh yes, you can make your own Halloween decals with duct tape. Specifically, black duct tape.
This is a super easy, smile-inducing craft that will make it look like you purchased some fancy vinyl decals online instead of using the roll of black duct tape that's been jammed in the back of your junk drawer.
Honestly, black duct tape has never looked better.
The sky is the limit with this craft. I made jack o'lantern faces and bats. The jack o'lanterns were my favorite. However, you could make witch hats, cats, ghosts, or something I haven't thought of.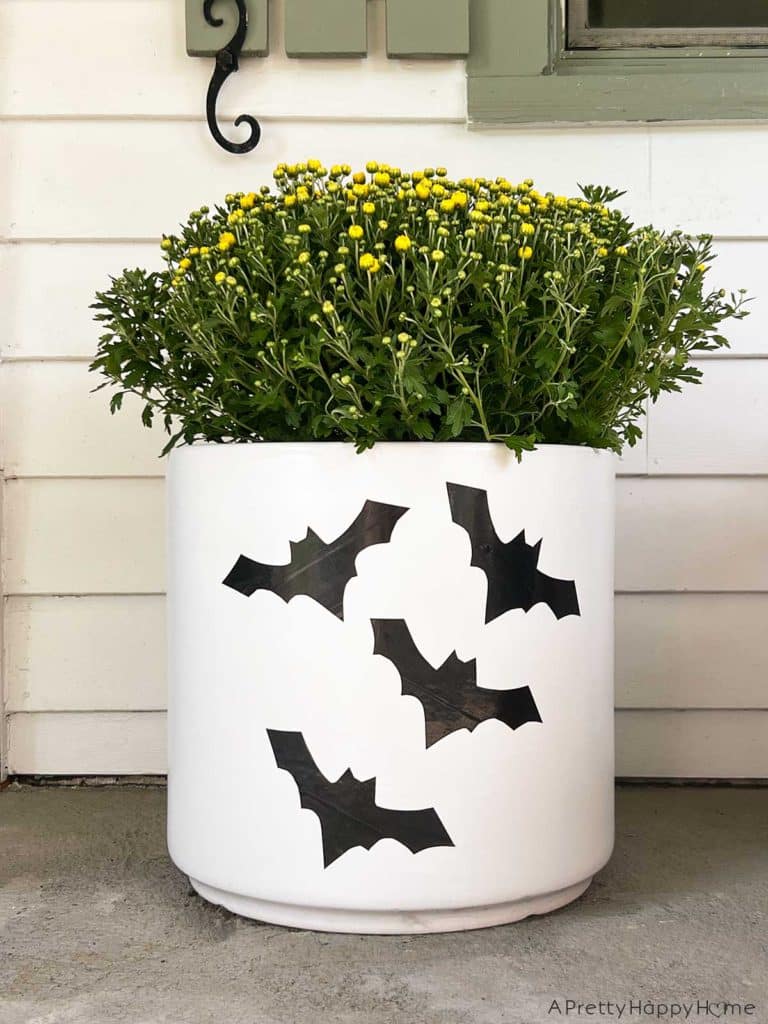 Let's get started!
---
Materials Needed To DIY Halloween Decals With Duct Tape:
Black duct tape
parchment paper
Scissors
pencil
ruler or other straight-edge
---
How To Make Halloween Decals With Duct Tape:
Step 1:
Apply a strip of duct tape to your parchment paper. If you're making a design that will be larger than one strip of duct tape, then slightly overlap one or more strips of tape on top of the first one.
Step 2:
Flip the parchment paper with your tape stuck to it over and draw your design on the back with a pencil. This is where the ruler will come in handy if you want to get straight lines. For the jack o'lantern mouth, I freehanded a design, as you can see in the below picture.
Step 3:
Follow the pencil lines you made and cut out your DIY Halloween Decals with scissors.
Step 4:
Peel the parchment paper off your decal and apply it to whatever surface you are decorating. Just remember to not put duct tape anywhere you don't want to later remove the duct tape and clean up the tape residue. Duct tape could also damage certain surfaces, so be mindful of that too.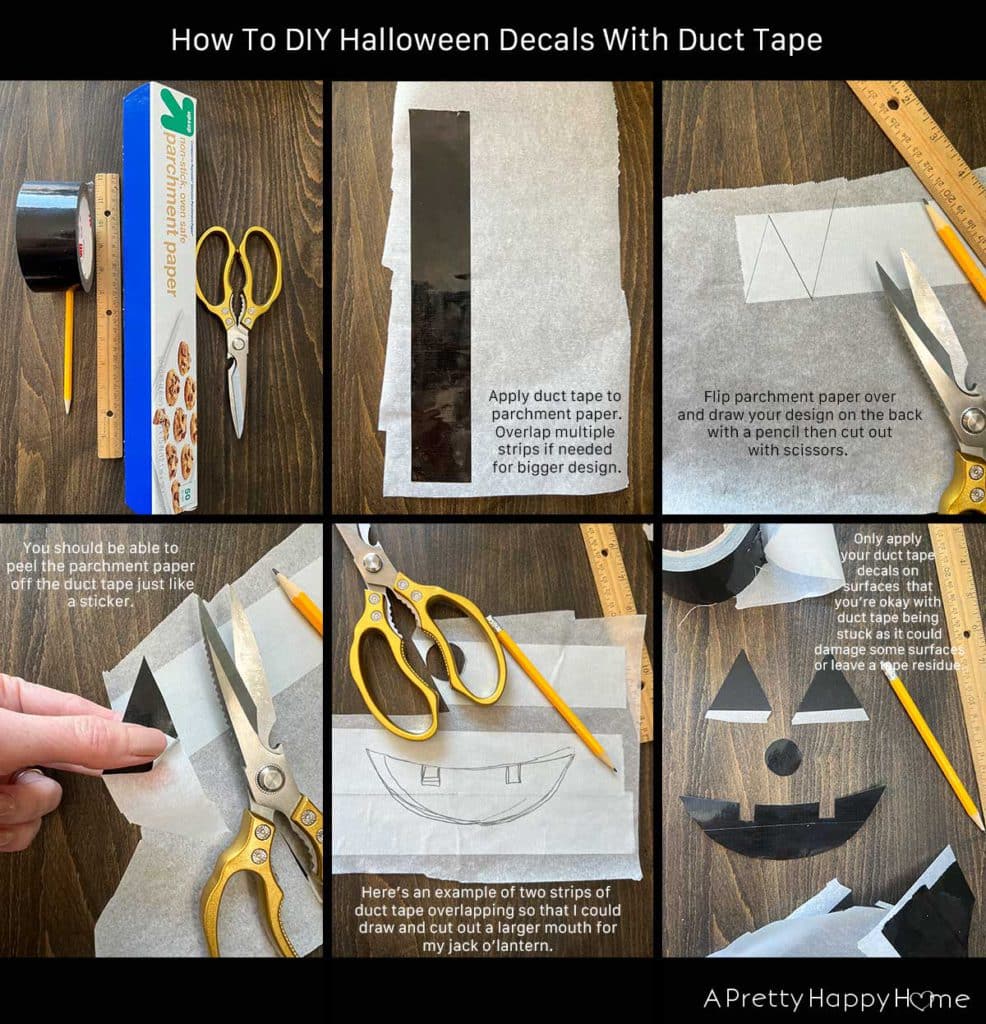 ---
I used my DIY decals to decorate my porch planters. It made the planters I already own instantly festive.
Since I already had the duct tape and parchment paper, this crafty upgrade cost me zero additional dollars. SCORE!
Here's the best part. Did you notice the orange planter? That's just the grow pot that the plant came in. A little duct tape jack o'lantern face gave that $5 grocery store plant an instant upgrade.
Wouldn't this be a fun way to gift an autumn plant to someone? No fancy planter is needed!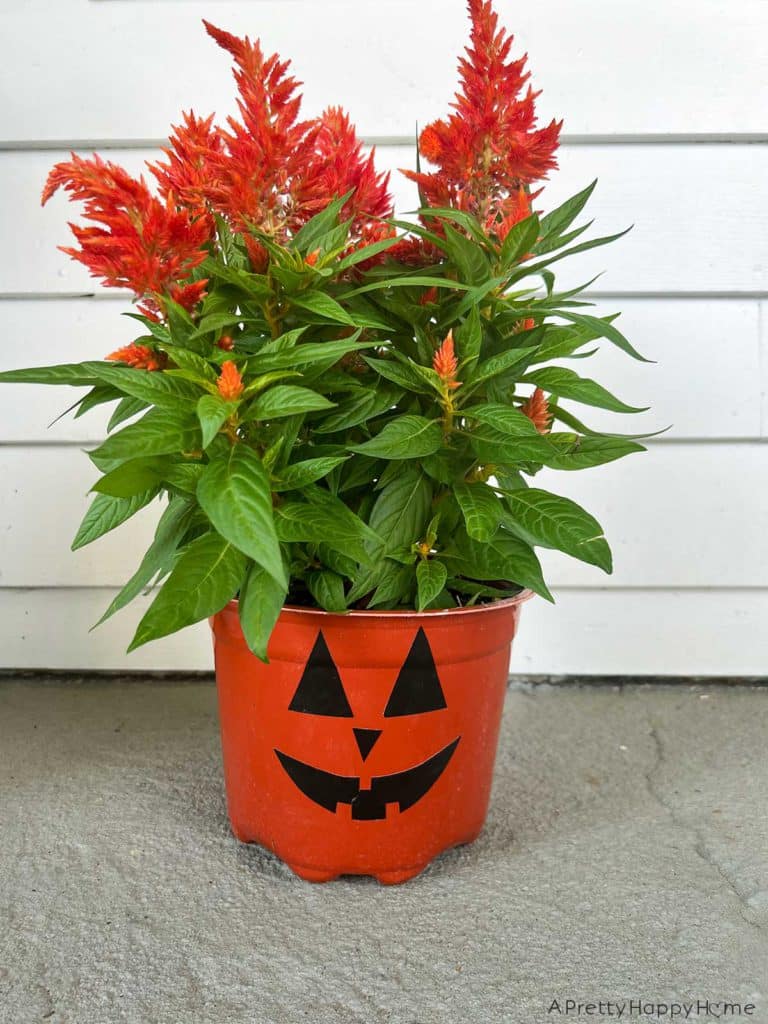 Where else could you use this DIY Halloween decal with duct tape trick?
You could use it on a wood round to make a wreath or wall hanging.
This would be a cute way to decorate a plain gift bag.
I haven't tested it, but you might be able to apply these DIY decals on brick outside your home.
Glass jars could become festive for Halloween using this trick.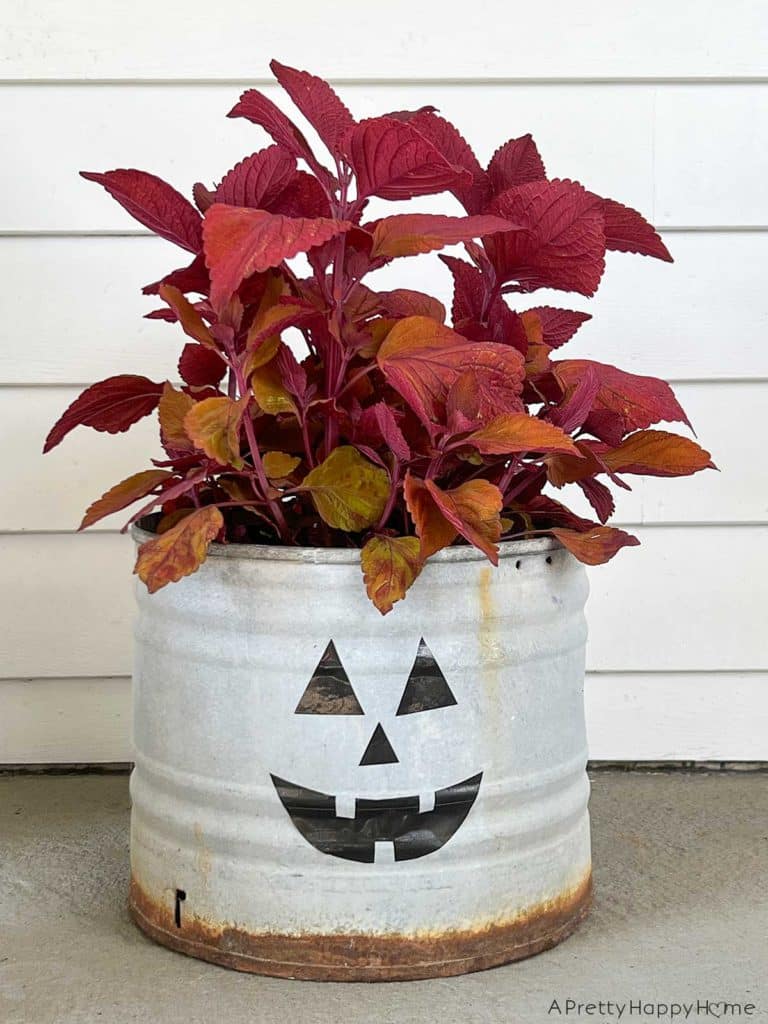 I cannot look at these planters without smiling. They were super easy and quick to make. Plus,  coming home right now and seeing them on the front porch with their big toothy grins makes me smile with delight.
What do you think of these DIY Halloween decals with duct tape? Is this an idea you would try? Let me know! You can always comment on this blog post, email us here, or reach out via Instagram or Facebook. If you make these decals, please let me know. I'd love to see a picture.
Happy Halloween!
---
Thanks for being here today. I love sharing crafty ideas with you. Here are some others that you might enjoy. 
Halloween Front Porch With Floating Witches' Hats
How To Make a Witch Broom With Sticks From Your Yard
How To Make an Easy DIY Brass Pumpkin
*affiliate links in this blog post*