Kitchen Peg Rail Adds So Much Functionality
We recently added a small kitchen peg rail to the end of our cabinets and I swear angels sang the Hallelujah Chorus when we finished installing it.
This kitchen peg rail added a surprising amount of functionality and, dare I say, style to our kitchen.
I didn't take a true "before" picture of the peg rail, but I found it at the thrift store for $2.
I'm sure I don't have to tell you that we live in a time and age where $2 doesn't even buy you a cup of coffee in most places. I could not buy the materials to make a small kitchen peg rail for $2, so it made sense to scoop one up at the thrift store.
Even if this peg rail had wood hearts hot glued to it.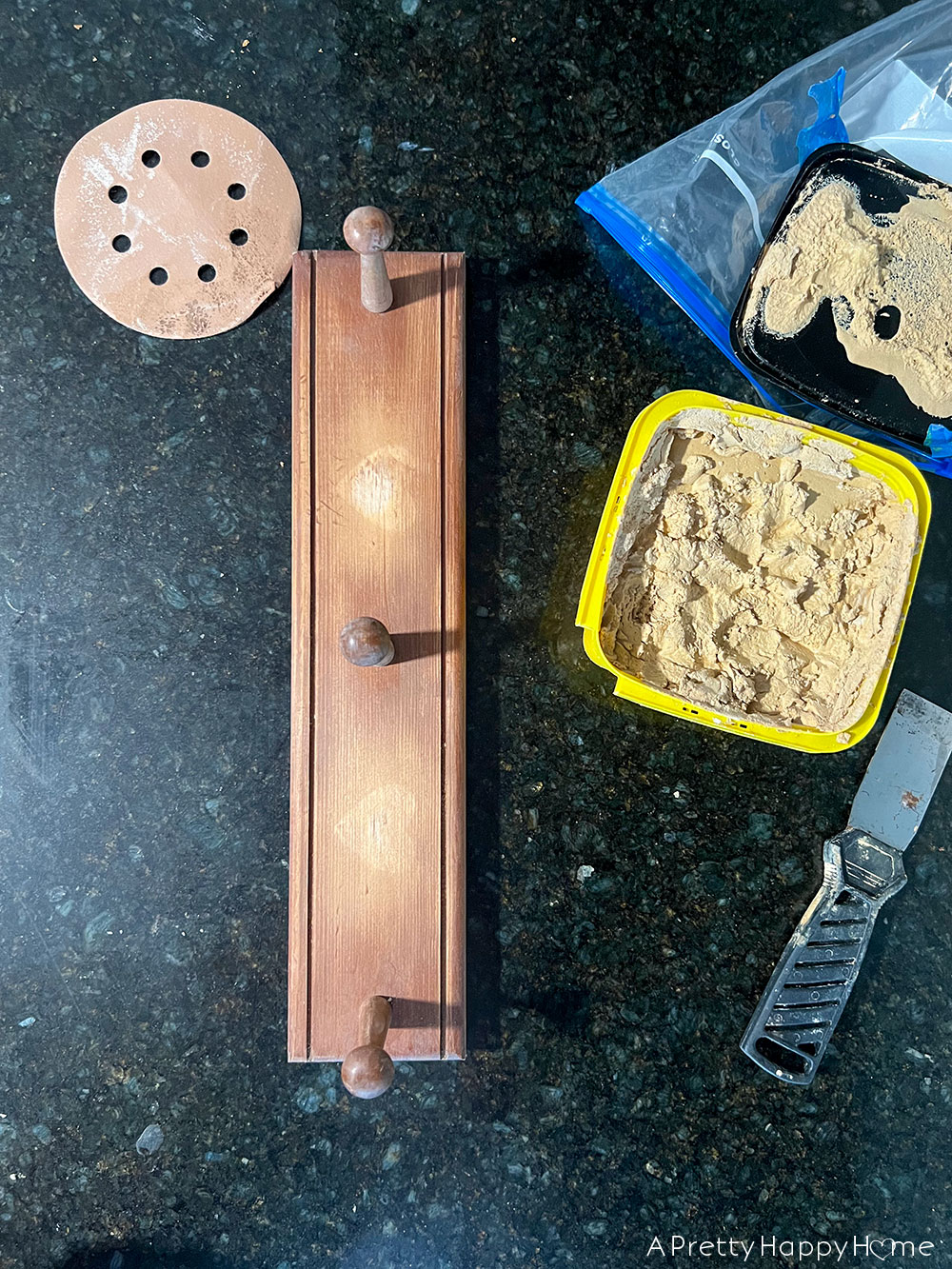 Those hot glued hearts caused a little bit of damage to the peg rail or, perhaps, I caused the damage when I went all cavewoman on those hearts and ripped them off.
However you want to describe it, a little wood putty and some sandpaper fixed the damaged areas right up.
Then I painted the peg rail black to match our kitchen cabinets. The cabinets are actually stained black, but I didn't want to sand the peg rail down to bare wood, so I opted to paint it.
In retrospect, it would have been easier to spray paint this kitchen peg rail black, but when have I ever taken the easy path on a DIY project?
If you do paint a kitchen peg rail or any peg rail, I recommend putting two coats of some sort of clear coat (polyurethane or polycrylic) on the pegs to protect them from scratching.
The clear coat should also offer some protection if you're hanging damp items on the pegs.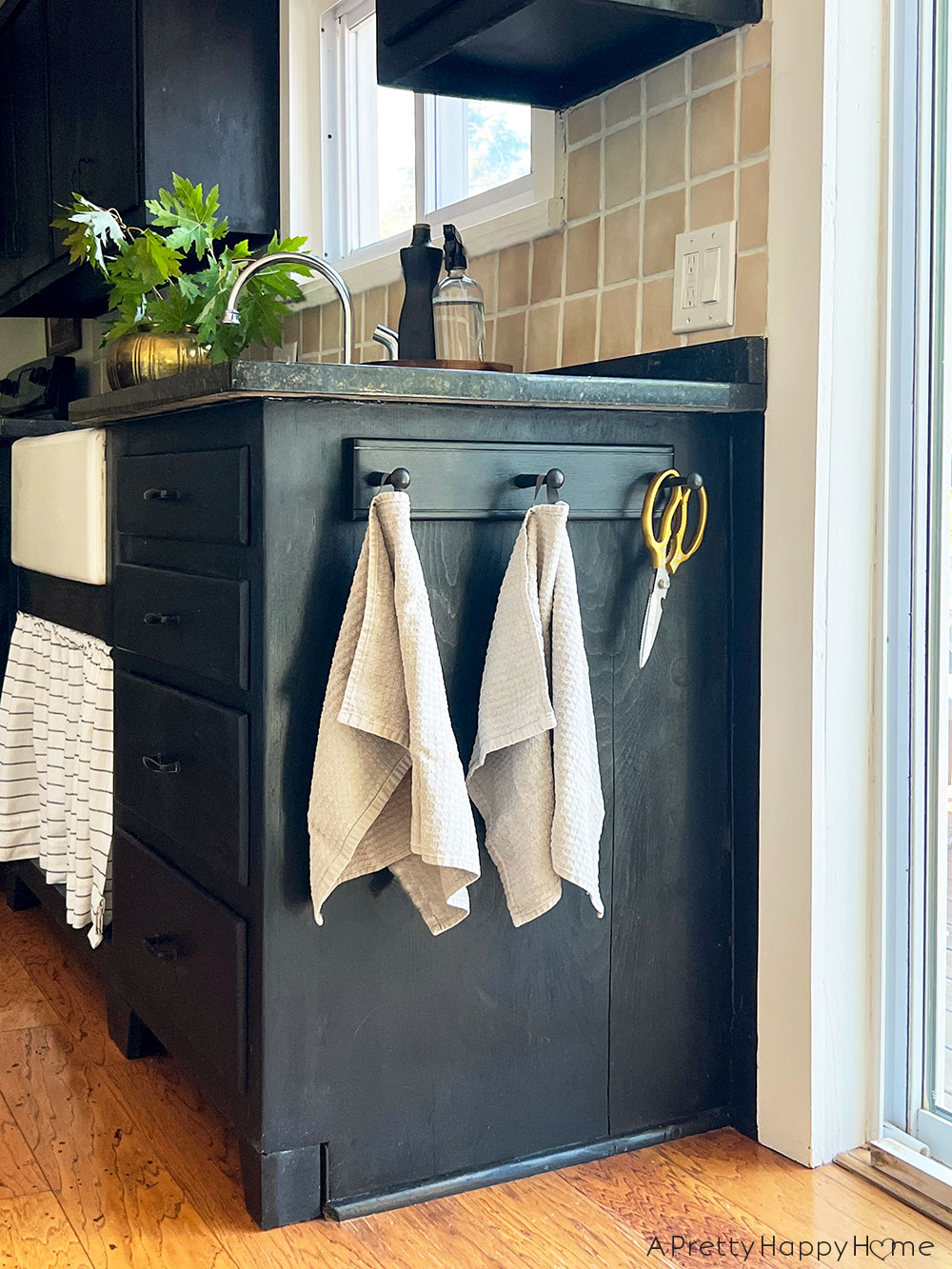 We secured the kitchen peg rail to the cabinets by screwing it in from the inside of the cabinets.
There were plenty of ways to hang this kitchen peg rail, but the beauty of securing it from the inside of the cabinets meant that there were no holes to fill on the peg rail itself.
Again, angels sang the Hallelujah Chorus…or maybe that was me. Someone was singing!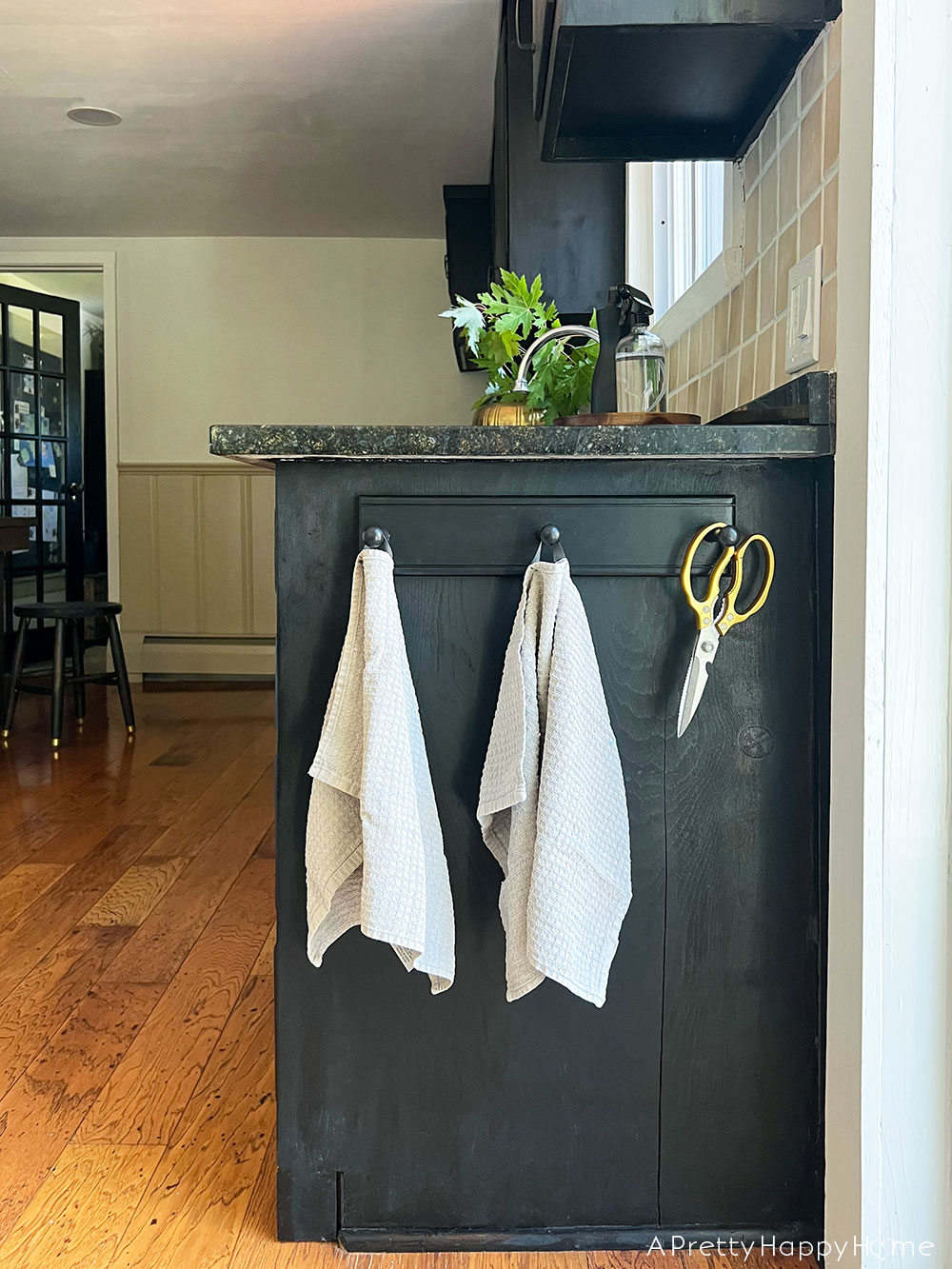 Could I make an argument that a kitchen peg rail is a great solution for almost everyone? Yes.
After all, added kitchen functionality and organization usually make most people happy. I don't know what's wrong with the rest of the population.
Where you install a kitchen peg rail will depend on your kitchen's layout, who uses your kitchen, and how that kitchen is used. Maybe your kitchen peg rail will hold aprons, cleaning tools, utensils, or bundles of drying herbs.
Do what works for you and you won't regret it!
---
P.S. If your kitchen towels don't have hanging loops, that's an easy fix even if you don't own a sewing machine. I hand-stitched some fabric ribbon onto my towels that were missing hanging loops.
In this case, I added the hanging loops on the side of the towel, instead of a corner or end, so that the towels would not touch the floor when hung from the pegs.
Denim belt loops recycled from a pair of old jeans also make great hanging loops on towels. Read about that here.
P.P.S. If you do want to make a kitchen peg rail from scratch, we've bought these 3 1/2-inch Shaker pegs before and they are fantastic. A 25-pack is less than $15.
---
Do you have a kitchen peg rail or other hanging storage you can't live without? I'd love to hear about it. You can always comment on this blog post (I have to approve it first before it appears), email me here, or reach out via Instagram or Facebook.
---
Thanks for reading today's blog post. Here are some other posts I'm sure you will enjoy.
DIY Kitchen Cabinet Feet From Scrap Wood
Microwave Station Adds Extra Kitchen Storage
Kitchen Refresh Part 7: The Reveal
*affiliate links in this blog post*