Fall Wreath Using a Concrete Form Tube
Have you heard of a concrete form tube or a building form tube? It is a super rigid, hollow cardboard-ish cylinder. It keeps its shape when concrete is poured into it. We used them to pour deck footings and had a few pieces left over, so let's talk about my creative use for a concrete form tube.
A concrete form tube with a diameter of 12 inches looks an awful lot like a wreath form to me.
Can you squint and see it?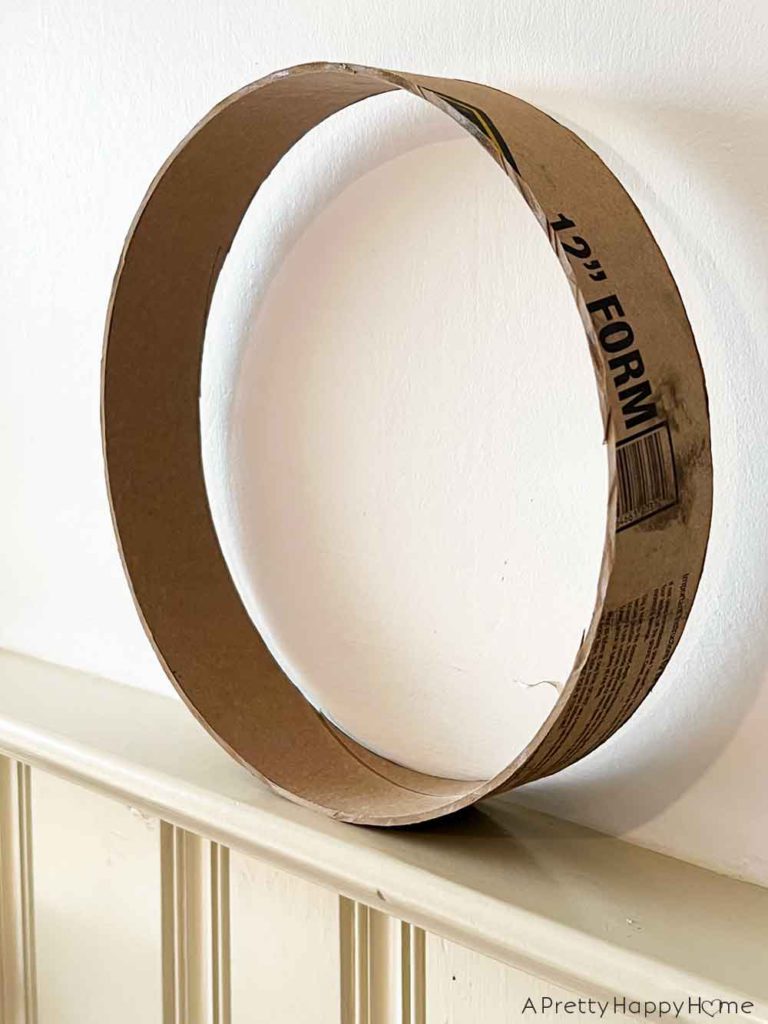 It's going to turn out amazing, I promise.
If you want to use one of these tubes to make a wreath, here's the process and what I learned along the way.
The first thing to do is cut the concrete tube form to the depth you want for your wreath form. The forms start out 48 inches long! We had some 10-inch scrap sections left from when we poured our deck footings. That's still too deep for a wreath, so I ended up cutting my form down to about 2 inches deep.
I'm sure there are many ways you can cut a concrete tube form, but scissors are not it. We marked a cut line on the concrete tube form with a pen and used a jigsaw to cut it to our desired size.
Concrete tube forms are made from laminated fibers (their description, not mine), so if you cut your wreath form and the front edge looks a little rough, you can carefully cut off any jagged bits or lightly sand it.
Or, cover over it as I did with ribbon, cord, or twine. It's always the path of least resistance for me. Ha!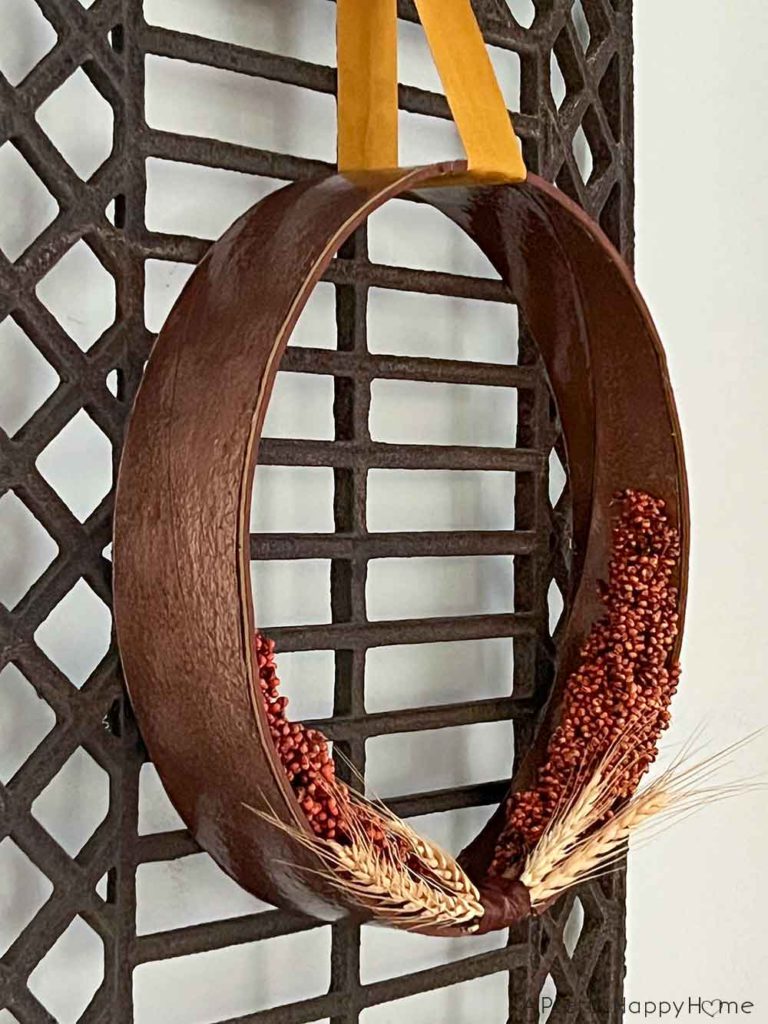 To make my newly created wreath form look less like a construction site and more like a sophisticated piece of fall decor, I painted my concrete form tube with hammered copper paint. The hammered texture of the paint ended up doing a good job disguising the fact that this was indeed a cardboard-ish material.
You could also skip the painting part and wrap your form with fabric, ribbon, or twine. The sky is the limit for you crafty folks.
Then I hot glued a leather cord on the front face of the wreath form to cover over any jagged bits from where we cut it to size.
After that, it was time to work my flower power! I added dried berries and dried wheat stalks to the wreath and secured them with floral wire. I hid any exposed floral wire with a bit of scrap leather.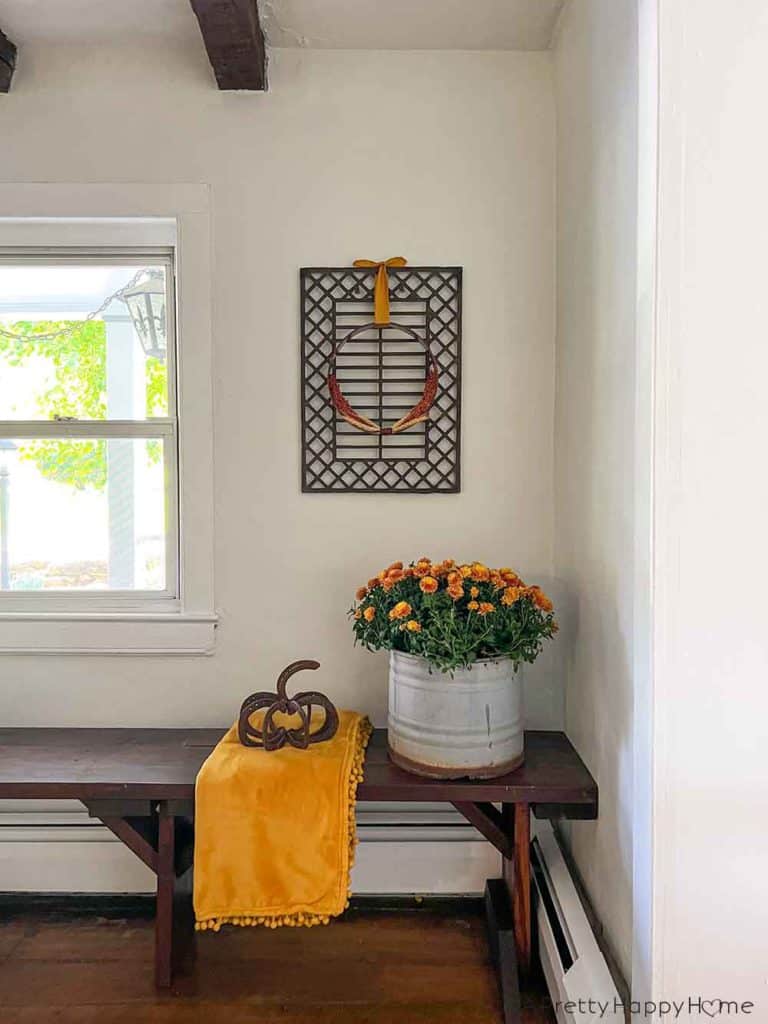 You have one final quest in this creative use for a concrete form tube. How do you hang your wreath?
The depth of my form was a little too much to use a Command hook or traditional wreath hanger. Although, I think it might be possible to drill a hole through this form in order to have a spot to hang it on a hook. Just try that experiment before you make your wreath, not after because I'm not actually sure what will happen.
I opted to hang mine from a ribbon, which added a pop of color to the wreath!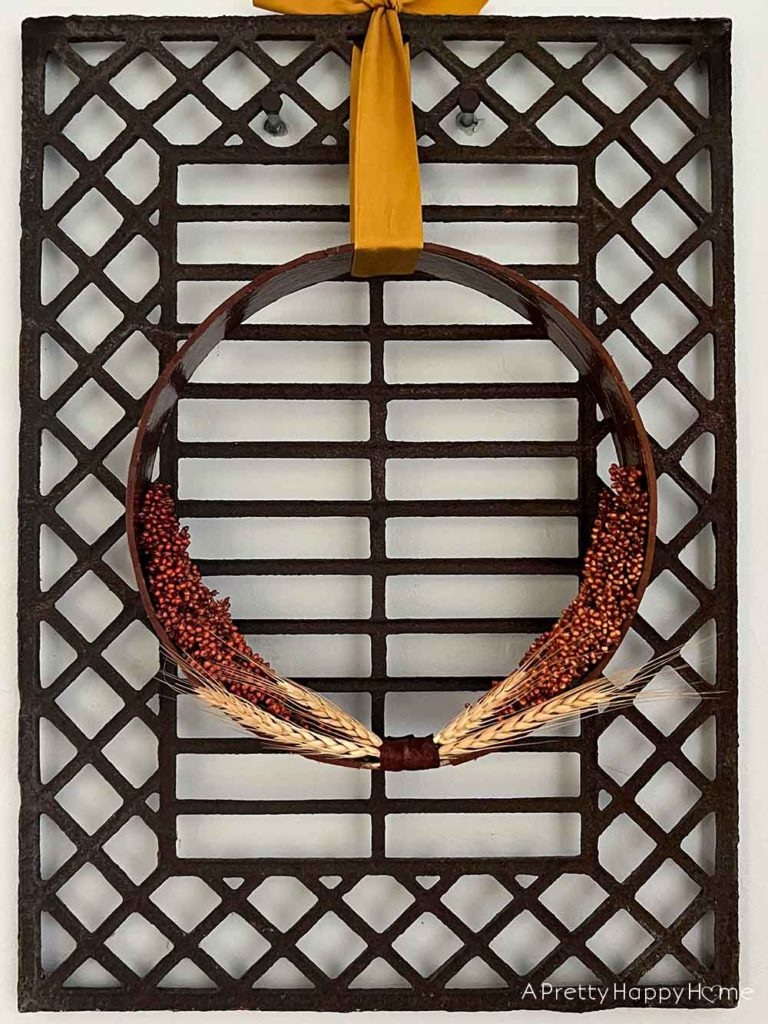 Be honest. If I didn't tell you what I made this wreath from would you have guessed?
Either way, I'm happy I gave this building material a second glance. I had fun making it and I'm definitely enjoying using it to decorate my home.
In fact, don't be surprised if you see this concrete tube form become the unsung hero of any future wreath-making around here.
---
P.S. Ready for another creative use for a concrete form tube? It's your lucky day because I've got two!
First, use a full-length tube to hold garden tools in your garage. I saw that idea on Family Handyman. These tubes should cost less than $20.
Second, I saw Lindsay from Frills and Drills use concrete form tubes to create a Super Mario picture backdrop. See the Reel here.
---
Can you think of another creative use for a concrete form tube? I'd love to hear about it! You can always comment on this blog post (I have to approve it first before it appears), email me here, or reach out via Instagram or Facebook.
---
Thanks for being here today! I love sharing ideas with you. Here are some other blog posts you might enjoy.
How To Make a Horseshoe Pumpkin
Wreath Made Using A Metal Grain Sifter
Using An Antique Grate As Wall Decor
*affiliate links in this blog post*